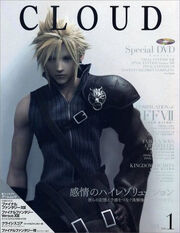 CLOUD Vol 1 is a promotional book and DVD released by Square Enix in late 2007. Though the book is based largely around the Final Fantasy VII protagonist Cloud Strife, and the Compilation of Final Fantasy VII, it also covers other Square Enix products inside and outside of the Final Fantasy series. Final Fantasy games featured are Fabula Nova Crystallis: Final Fantasy compilation and Dissidia Final Fantasy. The book is 122 pages long. The DVD mostly contains trailers for Square Enix products. CLOUD Vol 1 has not been released outside of Japan.
A sequel called CLOUD message has also been released.
Ad blocker interference detected!
Wikia is a free-to-use site that makes money from advertising. We have a modified experience for viewers using ad blockers

Wikia is not accessible if you've made further modifications. Remove the custom ad blocker rule(s) and the page will load as expected.