Cid:

Oh, shut up and help me remodel the Burn (status) page!

Please expand this article into a full one. The following tasks need to be completed:This request can be discussed on the associated discussion page. Remove this notice upon completion.
Relm:

I couldn't miss the chance to practice my drawing!

This article is in need of a few pictures. Perhaps you can help by uploading a picture.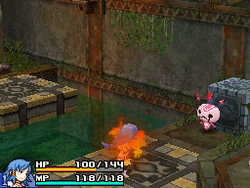 Burn (火炎, Kaen?) is a recurring negative status effect in the Final Fantasy series. It generally inflicts consistent damage over a brief period of time.
Appearances
Edit
FablesCT On the player's next turn, whoever is affected by the burn is dealt double damage from red zones.
Cards that cause Burn
Edit