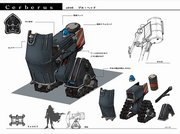 Bull Head is an enemy in Chapters 5, 9, and 10 of Dirge of Cerberus -Final Fantasy VII- that serves as the mobile barricade and riot shield for the Deepground. Although its health is low, its front armor can block all physical attacks except that of Gatling guns (Chapter 10). It can ram its enemies to knock them down, providing Deepground an opening to come for the kill. The Bull Head's weak point is the drum behind the red and white box. It is also vulnerable to magic.
| Attack | Damage | Type | Description |
| --- | --- | --- | --- |
| Shield Attack | 10 | Hard | Rams the enemy with the shield. |
Ad blocker interference detected!
Wikia is a free-to-use site that makes money from advertising. We have a modified experience for viewers using ad blockers

Wikia is not accessible if you've made further modifications. Remove the custom ad blocker rule(s) and the page will load as expected.