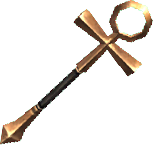 Bronze Rod (ブロンズロッド, Buronzu Roddo?). also called Bronze, is a recurring weapon in the series.
Appearances
Edit
III While not appearing physically or having any statistics inside the data, there is a text string of Bronze Rod suggesting that at one point during development that this weapon was planned to appear in the 3D remake as a rod.
FFL3 The weapon is called Bronze and it has a staff icon before its name. It has an attack power of 6 and it can be bought for 50 G at Dharm in the Present.