Cid:

Oh, shut up and help me remodel the Briny Cannonade page!

Please expand this article into a full one . This request can be discussed on the associated discussion page. Remove this notice upon completion.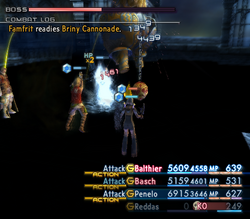 Briny Cannonade (蒼の砲撃, Ao no Hōgeki?, lit. Blue Bombardment) is a recurring ability in the series. It is an ability used exclusively by Famfrit, which deals heavy Water-elemental damage to the party.
Appearances
Edit
{{Galleryincomplete|
Final Fantasy XII: Revenant Wings
|
Final Fantasy Record Keeper