Bravely Default: Flying Fairy
Talk

20
13,963 pages on
this wiki
Bravely Default: Flying Fairy
ブレイブリーデフォルト フライングフェアリー
Bureiburī Deforuto: Furaingu Fearī
Developers
Silicon Studio[1]
Publishers
Square Enix
Release dates
October 11, 2012
2014[2]
2013
2013[2]
Genre
Role-playing game
Game modes
Single-player
Ratings
CERO: 15 and up
Platforms
Nintendo 3DS
"Now, become a Warrior of Light and head to the distant land of Luxendarc..."
—Announcement Trailer
Bravely Default: Flying Fairy is the successor of Final Fantasy: The 4 Heroes of Light, a "gaiden" or "spin-off" of the main Final Fantasy series. It was released for the Nintendo 3DS console in Japan. Character design is done by Akihiko Yoshida, and Silicon Studio. Although the game has an original title, it is considered a spiritual successor of Final Fantasy: The 4 Heroes of Light by its creators. The game also spawned a free-to-play web browser game, Bravely Default: Praying Brage, as its sequel.
Bravely Default: Flying Fairy is said to be a "traditional RPG" in the style of Final Fantasy: The 4 Heroes of Light; it is a turn-based RPG with random encounters, with a battle system focused on the job system. The game uses a system of stocked points called "BP" which characters use to gain extra turns. Every character has their own set of BP. When using the "Default" command, a turn is skipped in order to stock a BP, and the "Brave" command uses that BP to move twice.
Players can move twice and drop into negative BP, which will result in a combo of turns; however, this gives the enemy several turns in a row. BP can also be transferred between the characters. Another new battle command is the "Friend Summon" system, where players can summon the characters of other players using either data transfer between the player's friends or 3DS Streetpass system between strangers. When a Friend Summon is used repeatedly, they will grow in "Affection" and become stronger.
The job system is similar to that of Final Fantasy V in that characters learn abilities from using jobs. Job commands are the special skills of that class, such as Magic and Attack. Support abilities are automatic skills like HP +10% or Cover. Job commands can be set with abilities learned from other jobs, allowing mixed characters with multiple skills. Support abilities can be customized, but there is a set "cost" as to how many support abilities can be placed on one character.
Growth in job mastery is represented by job levels. As characters use a class more frequently in battle, their job level increases. Bravely Default: Flying Fairy features a special system called "Abilink", which allows players to borrow the job levels of their friends' characters.
While the characters are in polygonal 3D, the game's backgrounds are hand-drawn, with the various location elements "popping out" of the screen thanks to parallax scrolling and the 3DS auto-stereoscopic technology. A traditional 3D world map also makes an appearance. The playable characters can interact with each other using a "Party Chat" system, where battles are interrupted so that the player can watch a cutscene. These Party Chat scenes will expand the story and give game strategies.
Limit Break-style attacks called "Deathblow"[3][4] are powerful finishing moves based on weapons not unlike Final Fantasy XI's Weapon Skills and can only be used under special conditions. Each of the 9 weapon-types has 1-3 levels of attacks for a total 27 Deathblows. Furthermore the attack names, dialogue when used and after-effects (such as status effects, elemental properties, better damage versus certain enemy types) of Deathblow can be customized.
After a Deathblow is activated, the background music will change a unique theme based on the character and the Deathblow effects can stack. All weapon types have set proficiency that affects the learning rate and damage of each weapon and Deathblow. They are ranked S-E and vary from class to class: for example Freelancers have a B rating in all weapons.[5]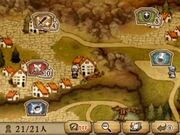 Bravely Default has a minigame that centers on rebuilding of Tiz's village Nolende by recruiting people using Streetpass or the internet. It normally takes hundreds of hours to complete, but that can be lessened using Streetpass to increase the population. Special shops can be built here such as a "Deathblow Parts" shop to alter the skills. Normal shops built here over time stock powerful unique equipment that can't be found elsewhere.

Job System
Edit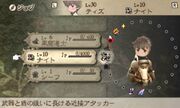 The game employs a job system that is slightly different from the system in Final Fantasy: The 4 Heroes of Light. A special item called Asterisk is needed in order to be able to change jobs. A total of 24 jobs can be obtained throughout the game and each job has its own level that will be capped at 14.
Monk, White Mage, and Black Mage will be first jobs gained from one of the first early on in the game.[6] The Dark Knights have the standard HP usage attacks, and they can cast status effects on themselves, such as Death Sentence, gaining a "parameter bonus" to increase their abilities.[5][7]

Like its progenitor series Final Fantasy, summons make an appearance in Bravely Default, but the traditional summons like Ifrit and Shiva will be absent. The summons in Bravely Default: Flying Fairy include the flaming train that bares a resemblance to Doomtrain, Prometheus (Fire), a woman with wild flowing hair who controls Ice, Ziusudra's Sin (Ice), a black bird that can take the shape of a plane, Hraesvelgr (Wind), a giant scorpion with a city on it's back, Girtablilu (Earth) and the Machine God, Deus Ex (Thunder).
The story takes place in Luxendarc (ルクセンダルク, Rukusendaruku?), the land of light and shadow. Many countries exist in this land: the scenic country of Gardisra where Tiz lived after his home was destroyed, the desert country of Lakrika (ラクリーカ, Rakuriika?), home to the Wind Crystal Shrine and known for its large wind-powered clock, the flower-filled country of Flowell, oceanic nation of Granship, the war-ridden land of Eizenberg, and the tundra Duchy of Eternia.
Characters
Edit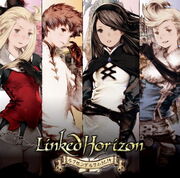 Non-Playable
Edit
4th Eternian Air Force Division
Edit
Argent Heinkel, Knight Jobmaster and commander of the Eternian Air Force[14][15], commands respect among his subordinates with a fierce personality.
Bearing Out, Monk Jobmaster and airship pilot, rough around the edges, but easy to sway.
Holly White, White Mage Jobmaster the Air Force's healer who runs the bridge. She doesn't have quarters of her own on the airship — so as a female she has lost a lot of sleep amongst her male subordinates as her bed is on the deck. She can be rather sadistic at times.
Ominous Crow, A Black Mage Jobmaster, who is very mischievous and combative with Holly — their relationship likened to cats and dogs.
Matamatto Boritori Troupe
Edit
Malme Konta Matamatto VIII, Time Mage member of the villainous Matamatto Boritori Troupe, who hunt down all believers in the Crystals in the kingdom of Lakrika. He is the King of the country.
Nikosguy Boritori, Matamatto Boritori Merchant and head of the company.
Jackal, Matamatto Boritori Thief, leads a band of outlaws.
Ikuma Naerik, Matamatto Boritori Magic Swordsman. A Mysterious mercenary who serves as a bodyguard and messenger.
Blood Rose Special Forces Unit
Edit
Fiore de Rosa, Playboy and the Red Mage. In the entertainment district of "Flowell", he is a poor middle-aged man whose love affairs are the talk of the town. His identity is a secret to many, but he is actually the commanding officer of Blood Rose Unit.[16]
Einherjar Venus, A Valkyrie belonging to the Blood Rose, she is the eldest daughter of three sisters; she has learned martial arts from the same teacher as Edea.
Mefirea Venus, The middle Venus sister and the Blood Rose Summoner. She listens to no one except her elder sister Einherjar.
Artemis Venus, Blood Rose Hunter and the youngest Venus sister. She too takes orders from no one except her eldest sister.
1st Eternian Army Division: Black-Iron Blades
Edit
Kamiizumi, Leader of the "Black-Iron Blades"[17][18][19] and a Swordmaster. Calm and collected, and is prestigious enough of a swordsman the enemy can respect. He is sent to intervene in a civil war against overwhelming odds, and was previously seen sparring with Edea in a previous Bravely Default demo.
Barbarossa, Member of the "Black-Iron Blades" and a Pirate Captain. He is Kamiizumi's lieutenant and is known for his hearty laughter. During the civil war he has been put in charge of moving goods and troops by sea.
Kikyou Konoe, Member of the "Black-Iron Blades" and a Ninja. Excelling at stealth and disguise, she is ruthless and wields two Kodachi blades. Her talents have all but gone extinct in Luxendarc, and she seems to have a smoldering hostility towards Barbarossa.
Doctor Kusurishi Kada, Member the "Black-Iron Blades" and a Chemist who is described as arrogant, apathetic, and full of hubris. He has been tasked with seeing after civilians caught in the strife, but seems to be concocting some sort of poison.
Pudding (Purin) a la Mode, Superstar Battlefield Idol and a member of the "Black-Iron Blades". A cheerful idol that has been given the role of rallying on soldiers in the civil war through song. Soldiers who hear her song will charge the enemy, unafraid of danger or death.
The Council of Six
Edit
Brave Lee, General of Eternia and the Council's creator, a strong supporter of the idea "anti-Crystalism" and is trying to encourage it's movement throughout Luxendarc. He is Edea's father and has the class of "Paladin".[20][21][22]
Anazel, A Dark Knight under the service of the General. He is an orphan, but the General saw talent in him and appointed him to the Council of Six. Behind his helmet is a familiar face that few have seen.
Dr. Victor, Devout and the leading authority in White Magic research as well as chief of medical technology in Eternia. Being uncommonly gifted in magic ever since childhood, it is what has allowed him to raise to his current position even at his fairly young age. He follows Victoria around like a butler.
Victoria, A little girl endowed with outstanding magic and intelligence. Contrary to her appearance, she speaks like an old person. Due to her unstable emotions and physical condition, she constantly relies on Victor's medical treatments. She is a "Magus".
Tiz is destined to become a Warrior of Light. Agnes, Tiz's comrade, is on a journey to free the Wind Crystal from the darkness that has engulfed it. However, she is being pursued by the Jobmasters of the Eternian's Air Force, who seek the power of the crystals and anyone in possession of them.
Main article: Bravely Default: Flying Fairy Original Soundtrack
The music for the game is composed by Revo from the Japanese musical group Sound Horizon. Members of the said group include RIKKI known for her work "Suteki da ne" for Final Fantasy X and Joelle known for "Plains of Eternity" from Final Fantasy XIII-2. A single was released on August 22nd, 2012 in Japan and includes a redeemable code for a special in-game equipment. The 2-disc soundtrack includes a fold-out stand for the four protagonists Tiz, Agnes, Edea and Ringabell.
Ordering the game's original soundtrack rewards a knight costume for Agnes and the ability to equip the character's respective default outfit regardless of job. However, the game must first be registered to Japanese Square Enix Member's site. Also, purchasing the supplementary album Luxendarc's Big Diary, with Revo's arranged versions of music from the game, will reward the player with the "Noble Composer" outfit.

Development
Edit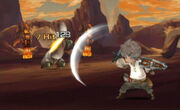 Bravely Default: Flying Fairy entered development as a Nintendo 3DS sequel to Final Fantasy: The 4 Heroes of Light, but Square Enix decided to rename the game with an original title so as not to confuse modern-day Final Fantasy fans, as the game's direction is different from the modern games of the series and closer in style to the older installments. The development team settled on the name Bravely Default: Flying Fairy so that the subtitle would abbreviate to "FF", as a reminder of the game's origins.[23]
According to the producer Tomoyo Asano, the Bravely Default means "Have courage and renounce the promises and responsibilities that are expected of you. In other words, don't just blindly do what you're told, act according to your will". This is the core theme behind the game's scenario.
One of requests the Asano made of Hayashi is that he wanted emphasis placed on the characters and scenario that would surprise people. Asano explained further that he wanted both good and bad guys to have appeal and likeability.[24]
Kensuke Nakahara, director and head of development at Silicon Studio, has said that the main challenge was to make Bravely Default: Flying Fairy a 'traditional' RPG and not an old-fashioned or overtly nostalgia-inducing one. He noted that there are many Dragon Quest and Final Fantasy fans on the development team, and a lot of the ideas they threw around were the sort that had been seen in previous titles and would please many fans , but the developers wanted to avoid including things just to give players twinges of nostalgia.[25]
Battle System
Edit
The main novelty in Bravely Default: Flying Fairy's battle system is the option to default on a turn to store up battle points for later use, or select "brave" to execute multiple actions in a single turn. It had always annoyed director Nakahara whenever bosses in Dragon Quest or Final Fantasy got to do two different attacks in the same turn and the team were discussing something in the battles that would be simple yet provide a chance for deeper strategy, such as the 'charge' command in the Dragon Quest series.[25] When the project first got started it was a very standard RPG akin to Final Fantasy III or Final Fantasy V, but the concern was it wouldn't be a good decision for a new IP like Bravely Default was intended to be. With the battle points system, Nakahara felt like it had the chance to turn the whole game around.[25]

Production Credits
Edit
Naotaka Hayashi, the scenario writer on Steins;Gate and Chaos;Head, wrote the story for Bravely Default: Flying Fairy.[26]
According to Dengeki PlayStation, Bravely Default has several guest designers who did character and job design concepts:[22]
Atsushi Okubo, the author of the manga Soul Eater, designed the character Einherjar Venus, as well as the Valkyrie job costumes.
Hideki Ishikawa, an illustrator who has worked on various card games including Lord of Vermillion Re:2, designed the character Nikosguy Boritori, as well as the Merchant job costumes.
Makoto Tsuchibayashi, the character designer and illustrator for Capcoms's Sengoku Basara series, designed the character Kamiizumi, as well as the Swordmaster job costumes.
Foo Midori, a freelance illustrator on various online games and light novels, designed the character Kada, as well as the Chemist job costumes.
Take, the character designer on Katanagatari, designed the character Victoria, as well as the Magus job costumes.
The collector's edition of the game can be exclusively acquired through the Square Enix eShop. This includes a copy of the game, the first print run of the game's original soundtrack, an art album, an original protect case for the 3DS, and a life-size AR poster.[27]. It is sold for ¥12,800. The standard edition of the game is available for ¥6,090.
On April 17th, 2013, six months after the game's original release, Nintendo announced that it would be localized and that the title would be released in 2013 for Europe and 2014 for North America.[2]

On February 27th, 2012, it was confirmed that the game would have several demos, each concentrating on one of the game's aspects, and two days later, on the February 29th, 2012, the first demo, titled "Demo + AR Vol.1 - Crystal Maiden Volume", was released on February 29th, 2012.[9]
Second demo, titled "Demo Vol.2: Heroes of Despair Volume", was published on March 29th, 2012.[11] The second demo allows to control Tiz, as well as walk around a town, visit a shop, and interact with its citizens.[28]
A battle demo was released on June 27th, 2012, which allows for a sampling of the game's battle system, with players selecting two jobs from a total of four available jobs, and making use of the "Brave & Default" system. It also contains new AR movie focusing on the new character of Edea Lee.[29]
A fourth demo was released on August 1st, 2012.[13] This demo gave control to the first three playable characters as they fight their way through a dungeon and fight a golem boss. This demo features full control of the game's battle system and comes with an AR movie focusing on Ringabell.
The final, fifth demo was released on September 12th, 2012, and included all elements from the four previous demos, and additionally added Friend Summons, Abilink, and Nolende village recovery system. Players can carry up to 20 friends into the Nolende in the full game. Also, with the release of the fifth demo, the previous four were removed.[30]
Reception
Edit
Famitsu gave a 10/9/9/10 (38/40) to Bravely Default: Flying Fairy. It also one of the winners of the "Future Game Awards" traditionally held at the end of TGS, by attendees.
Voice Cast
Edit
| Character | Japanese |
| --- | --- |
| Tiz Oria | Mitsuki Saiga |
| Agnes Oblige | Ami Koshimizu |
| Edea Lee | Mai Aizawa |
| Ringabell | Ryōta Takeuchi |
| Aerie | Makoto Tsumura |
| Malme Konta Matamatto VIII | Tetsu Shiratori |
| Nikosguy Boritori | Masaki Terasoma |
| Jackal | Nobuyuki Hiyama |
| Ikuma Naerik | Keiji Fujiwara |
| Einherjar Venus | Yuuko Kaida |
| Mefirea Venus | Satomi Arai |
| Artemis Venus | Hiroka Nishizawa |
| Fiore de Rosa | Jouji Nakata |
| Kamiizumi | Hikaru Midorikawa |
| Captain Barbarossa | Kousei Hirota |
| Kikyou Konoe | Eri Saitou |
| Doctor Kusurishi Kada | Chafurin |
| Pudding (Purin) a la Mode. Egil Meyer | Fumie Mizusawa |
| Brave Lee | Takehito Koyasu |
| Anazel | N/A |
| Dr. Victor | Daisuke Ono |
| Victoria | Kanon Tani |
| Yulyana | Hiroshi Masuoka |
| Sir Orwen | N/A |
Packaging Artwork
Edit
External Links
Edit
References
Edit