Brahne Raza Alexandros XVI
18,466 pages on
this wiki
Talk

15
Bwahahaha! Kuja! So you finally decided to show your girly face here! You're all that stands between me and total domination! Gehehe!
—Queen Brahne to Kuja
Queen Brahne Raza Alexandros XVI (ブラネ・ラザ・アレクサンドロス16世, Burane Raza Arekusandorosu 16-sei?) is Alexandria's ruler and mother of Princess Garnet in Final Fantasy IX. Though she ends up causing much death and destruction, Garnet testifies she had once been a kind and well-liked monarch and not the power-hungry villain she became after the King passed away, and the mysterious Kuja started to show his face within Alexandria Castle.
Appearance
Edit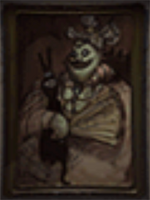 Queen Brahne is a large, 39-year-old woman with pale, blue skin, large lips, and a bulbous, purple nose. Kuja calls her an "elephant-woman" and Baku, the leader of Tantalus Theater Troupe, refers to her as "fat-ass, butt-ugly Queen Brahne". Brahne wears a fair amount of makeup, including blush and lipstick, and her face is covered in freckles. Her eyes are blacked out under a large domed golden helmet from which two blonde, bristly ponytails protrude from either side. She dresses extravagantly, wearing a long red coat with a feathered trim, a striped blouse, a long skirt with a golden sash, and a lot of jewelry. She often carries a fan.
Personality
Edit
Although once kind and benevolent, when Brahne's husband died she became cruel and bitter. A mysterious man named Kuja convinced her to wage war on the other nations of the Mist Continent, leading to Brahne's insatiable greed and subsequent lack of value for innocent lives. Brahne becomes blinded by her desire to rule and even puts her daughter's safety at risk.
Other appearances
Edit
Brahne appears in the Final Fantasy Trading Card Game with her Yoshitaka Amano artwork.

Etymology
Edit
[view  · edit  · purge]"Alexandros" is the original Greek spelling (Ἀλέξανδρος) of the given name Alexander. The name means "Protector of Mankind". Brahne's first name may be taken from the Greek word brachnos, meaning "hoarse".
According to one of the Alexandrian castle cooks (Ovenmeister), Queen Brahne's favorite dish is deep-fried bat.
If the concept art is to be believed, Brahne may have originally had a giant pet cat she would use as a couch. A smaller cat can be seen in the portrait of her found in Alexandria Castle.
Brahne snaps her fan in the FMV in which Garnet escapes Alexandria, but when the game returns to normal gameplay, she is fanning herself. It is possible she carries extra fans, a humorous element also used for Rude's sunglasses in Final Fantasy VII: Advent Children.
Brahne's favorite flower is the red rose, hence the name of her airship, Red Rose. The people of Alexandria give Garnet a wreath of red roses for her mother's grave.