Cid:

Oh, shut up and help me remodel the Braev Lee page!

Please expand this article into a full one. The following tasks need to be completed:

This request can be discussed on the associated discussion page. Remove this notice upon completion.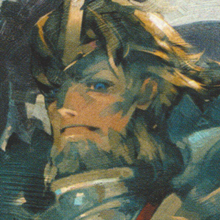 Braev Lee (ブレイブ・リー, Bureibu Rī?) is a character in Bravely Default and Bravely Second: End Layer. Braev Lee is a Templar, Grand Marshal of Eternia and Edea Lee's father who is married to Mahzer Lee. Though believed to be the game's antagonist, Braev's actions and intentions made him appear to be a man of the people.
He also appears in Bravely Default: Praying Brage.
D's Journal entries
Edit
Grand Marshal
Leader of the Eternian forces, and head of the Council of Six. He seized the Earth Crystal fifteen years ago. Edea is his daughter.
A 45-year-old man from Eternia. His name is Braev Lee, and he carries the templar asterisk. He is valiant, judicious, and stern. A staunch supporter of Anticrystalism, the future of the duchy and the world around it are never far from his mind.
Likes: Hot pot
Dislikes: The Archduke
Appearance
Edit
Braev is a tall forty-five year old man with long blond hair and beard as well as grey-blue eyes. He wears silver armor with red accents and a long red cape. He has winged shoulder-plates and a silver crown on his head.
Personality
Edit
Much like his daughter Edea, Braev is stubborn and had many of the same ideals she follows such as protecting the people. But after being disillusioned with the Crystal Orthodoxy, Braev began to have ideals about how the world should be, a conviction that placed him and his daughter on opposing sides.
He is also somewhat violent as he believes that conflict is the only way matters can be resolved and frequently refuses to talk to resolve conflicts, or will do so without listening to the other side. But due to his actions being for the greater good, despite the actions of those under him who are evil at heart, Braev is recognized as hero to his people while as a monster to the other nations.
Bravely DefaultEdit
Braev is fought in the Council room. In the first battle, he will heal twice before being defeated. In later battles, he doesn't heal, but does fight alongside allies, Alternis and Kamiizumi and later Artemia, Khamer, and Victor. In battle, Braev utilizes the skills of the Templar job, utilizing skills which do high amounts of physical damage and/or Light-based damage.
Bravely SecondEdit
Braev is fought as part of a sidequest.
Creation and development
Edit
Braev is voiced by Takehito Koyasu in the Japanese version of both games. He shares his Japanese voice actor with Pist Shaz XI from Final Fantasy: Unlimited.
Other appearances
Edit
BDPB Braev appears as an obtainable unit.
Error: invalid codename. See Help:Codenames for more information.
Non-Final Fantasy guest appearancesEdit
Fantasy Earth ZeroEdit
Braev Lee's weapon appeared in a collaboration event.[1]
Other media
Edit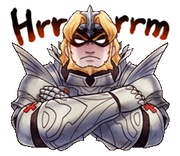 Braev appears on a sticker set for the LINE communications app. The sticker set he appears in is titled "Bravely Stickers - Volume 1".[2]

Bravely Default
Bravely Second: End Layer
Etymology
Edit
His given name is a play on words resembling the term "Bravely" similar to how his daughter (Edea Lee) and wife's (Mahzer Lee) names resemble the terms "Ideally" and "Motherly". The three terms appear to reflect the personalities of their corresponding characters.
[view · edit · purge]Lee is an English name derived from Old English leah for "clearing; meadow". Li is the pinyin and Wade–Giles romanization (spelled Lí, Lǐ, or Lì when pinyin tone diacritics are used) of several distinct Chinese surnames that are written with different characters in Chinese. Lee is also the typical romanization of the common South Korean surname I (Hangul 이) and North Korean surname Ri (리).
Along with Praline à la Mode and Lester DeRosso, Braev is one of the three asterisk holders that doesn't die in the first world loop. He is just wounded enough to not be able to use a sword.
References
Edit