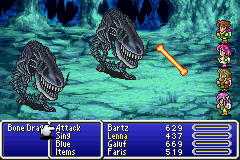 Bone (ボーン, Bōn?), also known as Bone Toss or Bone Missile, is a recurring enemy ability in the series. It often either inflicts Zombie or reduces a single party member's HP to single digits. It is a favorite of undead enemies, mainly undead dragons.
Appearances
Edit
Bone is used by Bone Dragon and Dinozombie. It reduces a party member's HP to single digits. The player may utilize this ability by catching and releasing a Bone Dragon (only in normal random encounters or when fighting an Alchymia) or from Dinozombie.
Bone, used by Fossil Dragon and Zombie Dragon can inflicts Zombie on one party member. Dinozombie's version deals heavy physical damage to a single party member.
Bone is used by the Dragon Zombie, and inflicts major non-elemental damage as well as Paralyze to one party member.
Bone Toss, used mainly by the Skull enemies, inflicts non-elemental damage and is a ranged attack.
Bone Missile has an attack power of 6, it is used by Flamerus Rex and Skullrus Rex to inflicts non-elemental damage to one party member.
FFL Bone is an ability that has 25 uses and has an attack power of 3 which damages one enemy, the damage formula is base on Strength. This ability is used by Skeleton, Red Bone, Dokuro, and Warrior.
Ad blocker interference detected!
Wikia is a free-to-use site that makes money from advertising. We have a modified experience for viewers using ad blockers

Wikia is not accessible if you've made further modifications. Remove the custom ad blocker rule(s) and the page will load as expected.