Bomb Forest
Talk

0
13,967 pages on
this wiki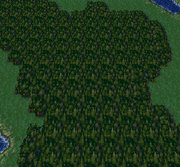 The following article is based on a subject that has not been officially named in any official Square Enix material; the current title is merely a placeholder.
Bomb Forest (ボムの森, Bomu no Mori?) is a term used to describe a location in Final Fantasy VI. The official name of this forest remains unknown, but the forest is notably known for being populated by Bombs. This huge forest is located directly west of the Veldt across the river, and directly south of the Phantom Forest across the mountain range. This forest is isolated from the rest of the world as it cannot be reach by walking nor with a chocobo, the only way to get there is with the airship.
This is the only place to encounter Grenades in the Super Nintendo and PlayStation version of Final Fantasy VI. In these older versions, if the player miss encountering the Grenade, the player will never encounter it on the Veldt and Gau will never learn the Grenade Rage. In the Gameboy Advance version, Grenades can be encountered in the Soul Shrine.
Monster Formations
Edit