Final Fantasy X-2 Enemy
Bomb
ボム (Bomu)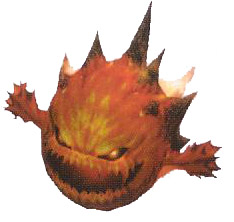 Bomb
Statistics
Level
HP
MP
2
140
265
Strength
Magic
Defense
15
29
12
M. Defense
Agility
Accuracy
2
48
1
Evasion
Luck
0
0
EXP
AP
Gil
2
1
30
Bomb
ボム (Bomu)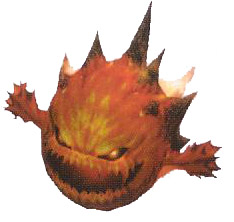 Bomb
Statistics
Level
HP
MP
3
545
265
Strength
Magic
Defense
17
29
12
M. Defense
Agility
Accuracy
2
53
1
Evasion
Luck
0
0
EXP
AP
Gil
8
2
55
The Bomb is an enemy in Final Fantasy X-2. It is an easy enemy that can be defeated quickly with any Ice or Water ability. Any accessory that contains Waterstrike or Icestrike would also work. It is best to try and defeat it in one blow to avoid its Kaboom! attack, or in the case that the player is unable to take it out quickly enough, having Fire resistance will help lessen the damage done from it exploding. Its other attacks are of no threat.
Fiend Tale
Edit
In the Fiend Tale endings, a notable Bomb was created from the spirit of a boy who was an Auroch fan and dreamed to join the team alongside his best friend, the two known as the Golden Duo. Learning that his friend had not been practicing since his death, Bomb decides to help him by assuming the form of a Blitzball.
Other appearances
Edit


This article or section is a stub about an enemy in Final Fantasy Record Keeper. You can help the Final Fantasy Wiki by expanding it.
Etymology
Edit
[view · edit · purge]A bomb is an explosive weapon that uses the exothermic reaction of an explosive material to provide an extremely sudden and violent release of energy.
Related enemies
Edit
Ad blocker interference detected!
Wikia is a free-to-use site that makes money from advertising. We have a modified experience for viewers using ad blockers

Wikia is not accessible if you've made further modifications. Remove the custom ad blocker rule(s) and the page will load as expected.