Final Fantasy X-2 Enemy
Bolt Drake
ボルトドレイク (Boruto Doreiku)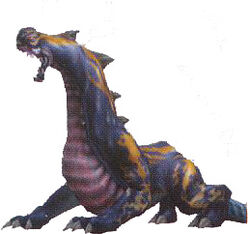 Drake
Statistics
Level
HP
MP
21
623
42
Strength
Magic
Defense
42
72
26
M. Defense
Agility
Accuracy
2
58
0
Evasion
Luck
0
0
EXP
AP
Gil
152
1
130
Bolt Drake
ボルトドレイク (Boruto Doreiku)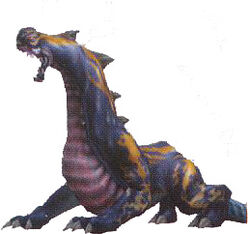 Drake
Statistics
Level
HP
MP
25
2,492
42
Strength
Magic
Defense
46
72
26
M. Defense
Agility
Accuracy
2
64
0
Evasion
Luck
0
0
EXP
AP
Gil
245
2
183
Location
Thunder Plains
Bikanel Desert
Mt. Gagazet
Via Infinito Floors 24 - 26
Chapters
1, 2, 3, 4, 5
Common Steal
Lightning Gem x2
Rare Steal
Lightning Gem x3
Gil Steal
760
Common Drop
NulShock Ring
Rare Drop
NulShock Ring
Common Bribe
NulShock Ring
Rare Bribe
Ochre Ring
Abilities
Breath, Cure, Strength Down, Strength Up
Blue Bullet
N/A
Status Resist
Death (40), Petrification (30), Poison (20), Eject (25), Zantetsu (6)
Status Immunity
Sleep, Confusion, Berserk, Curse Strength Down
Other Information
N/A
Normal: "A fiend that attacks with alarming speed despite its otherwise lethargic movement. Its lightning breath can damage multiple targets at once. Bothersome."
Oversoul: "Able to deal damage to multiple targets with its lightning breath. On the bright side, its attack power drops as it inflicts damage. Hang in there!"
— Scan
The Bolt Drake is an enemy from Final Fantasy X-2. Because of its low Magic Defense and weakness to Water, it is wise to use a strong Water spell. It is also wise to equip Lightning resistant accessories or Garment Grids to avoid its powerful Breath attack. Aside from this, it is not particularly difficult to defeat.
Fiend Tale
Edit
In the Fiend Tale endings, a notable Bolt Drake attempted to rob Lulu and ends up stealing her dolls. The stress and pain from the dolls' constant need to play forces Bolt Drake to return them.
Etymology
Edit
Drake is another word for dragon. [view · edit · purge]A dragon is a legendary creature, typically with serpentine or reptilian traits, that features in the myths of many cultures.
Related enemies
Edit
Ad blocker interference detected!
Wikia is a free-to-use site that makes money from advertising. We have a modified experience for viewers using ad blockers

Wikia is not accessible if you've made further modifications. Remove the custom ad blocker rule(s) and the page will load as expected.