Relm:

I couldn't miss the chance to practice my drawing!

This article is in need of a few pictures. Perhaps you can help by uploading a picture.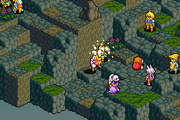 Body Slam (たいあたり, Taiatari?), also known as Bodyslam and Bash, is a recurring ability in the Final Fantasy series. It is a single-target physical attack that reoccurs as an enemy ability and the ability of Warriors in the Final Fantasy Tactics Advance games.
Appearances
Edit
V Body Slam is an enemy ability that deals non-elemental damage to a single target. The ability can be used by Bandersnatch, Bomb, Bulette, and Duelist.
VI Bodyslam, originally titled Rush in the SNES and PlayStation translations, is a weak physical attack. The red and brown Magna Roaders can use this enemy ability, Muud Suud can use it as well.
FFVIIDoC Body Slam is a hard-hitting physical attack in Dirge of Cerberus -Final Fantasy VII-. The enemy ability is a charge towards the player. It can be used by Arch Azul, Bizarre Bug, Epiolnis, and the hounds, Crimson Hound and Guard Hound.
Body Slam
MP
74
Effect
Delivers an area attack
Duration
N/A
Casting Time
1 sec
Recast Time
27.75 sec
Magic Type
Blue Magic
Element
None
Jobs
BLU 62
Body Slam is an enemy ability that can be learned from Dragons. It physically strikes enemies within range.
Body Slam can also be obtained as a Blue Magic spell. This spell costs 4 Blue Magic Points to set.

TA Body Slam is a Warrior ability. Taught from the Striborg weapon, it is a tough physical attack that also does damage to the user equal to 1/4 of the damage the attack did to the target. It cost 300 AP to master.
TA2 The Body Slam ability returns as an ability of the Warrior once more. The Arts of War technique deals a tough physical attack to the enemy, and quarter damage to its user.
FFMQ The Adamant Turtle and Land Turtle are the users of the Body Slam enemy ability. It is a basic physical attack with an attack power of 10.
FFL Bash is an ability that has 3 uses and has an attack power of 9 which damages one enemy, the damage formula is base on Strength. This ability is used by Triceras, Behemoth, Scarab, Mazin, Ganesha, Machine, and Gen-Bu2.
ATB Body Slam is the enemy ability that is used by the Microchu and Picochu during battle.