Final Fantasy X-2 Enemy
Blue Elemental
ブルーエレメンタル (Burū Erementaru)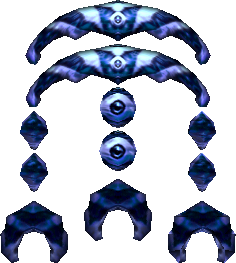 Elemental
Statistics
Level
HP
MP
22
363
350
Strength
Magic
Defense
3
206
16
M. Defense
Agility
Accuracy
118
63
0
Evasion
Luck
0
0
EXP
AP
Gil
342
1
180
Location
Chateau Leblanc
Thunder Plains
Calm Lands Ruins
Ruin Depths
Macalania Woods
Via Infinito Floors 33 - 35
Chapters
2, 3, 4, 5
Common Steal
Dragon Scale
Rare Steal
Water Gem
Gil Steal
520
Common Drop
Dragon Scale
Rare Drop
Water Gem
Common Bribe
Water Gem x6
Rare Bribe
Water Gem x6
Abilities
Magic Up, Osmose, Silence, Watera
Blue Bullet
N/A
Status Resist
Eject (6)
Status Immunity
Petrification, Sleep, Confusion, Berserk, Curse
Other Information
N/A
Blue Elemental
ブルーエレメンタル (Burū Erementaru)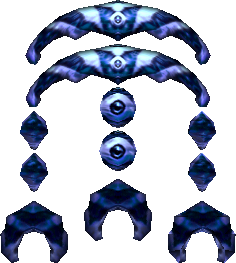 Elemental
Statistics
Level
HP
MP
23
788
350
Strength
Magic
Defense
3
206
18
M. Defense
Agility
Accuracy
118
69
0
Evasion
Luck
0
0
EXP
AP
Gil
620
2
290
Location
Chateau Leblanc
Thunder Plains
Calm Lands Ruins
Ruin Depths
Macalania Woods
Via Infinito Floors 33 - 35
Chapters
2, 3, 4, 5
Common Steal
Watery Gleam
Rare Steal
Watery Gleam
Gil Steal
1,000
Common Drop
Water Gem x4
Rare Drop
Water Gem x5
Common Bribe
Gold Hairpin
Rare Bribe
Gold Hairpin
Abilities
Magic Down, Magic Up, Osmose, Regen, Silence, Waterga
Blue Bullet
N/A
Status Resist
Eject (10), Zantetsu (3)
Status Immunity
Petrification, Sleep, Confusion, Berserk, Curse, Magic Down
Other Information
N/A
Normal: "A fiend created when the power of water fuses with pyreflies. It sprays water at all who approach. Lightning is its only elemental weakness."
Oversoul: "A fiend created when the power of water fuses with pyreflies. Lightning is its only elemental weakness. Its water damage grows weaker as it attacks."
— Scan
The Blue Elemental is an enemy in Final Fantasy X-2. Finish it off with a strong Lightning attack.
Fiend Tale
Edit
In the Fiend Tale endings, one notable Blue Elemental was created from the spirit of a Crusader who fell in love with a woman from Luca and died during Operation Mi'ihen. When he learned of her wedding, the Blue Element convinced Shinra to take him to his beloved and was glad to see her happy. After learning that he still had a place in the woman's heart, the Blue Elemental departed to the Farplane soon after.
Etymology
Edit
[view · edit · purge]An elemental is a mythic being described in occult and alchemical works from around the time of the European Renaissance and particularly elaborated in the 16th century works of Paracelsus.
Related enemies
Edit