Blue Dragon
ブルードラゴン (Burūdoragon?)

Statistics
Level
HP
?
15,000
Strength
Defense
144
4
Magic
Magic Defense
0
47
EXP
Gil
36,000
40,200
Blue Dragon
ブルードラゴン (Burūdoragon?)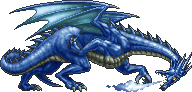 Statistics
Level
HP
?
15,000
Strength
Defense
144
4
Magic
Magic Defense
0
47
EXP
Gil
36,000
40,200
The Blue Dragon is an enemy from Final Fantasy IV: The After Years.
The Blue Dragon is dangerous and can potentially wipe out an entire party with its Icestorm attack if the party is not leveled enough or have outdated armor. Blue Dragons follow a strict pattern of Attack > Icestorm > Attack > Attack > Icestorm, at which point it will loop back to the start of the pattern again.
Since the damage done by Icestorm is related to its current health (higher HP means more damage), it's important to squeeze in as much damage as possible before the attack can be used. Once the dragon's health has been brought down, Icestorm should be relatively mild. Constant healing is highly recommended.
Etymology
Edit
[view · edit · purge]A dragon is a legendary creature, typically with serpentine or reptilian traits, that features in the myths of many cultures.
Related enemies
Edit