Blue Dragon
ドラゴンイゾルデ (

Doragonizorude

?)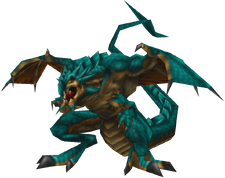 Statistics
Level
HP

1.75(Lv)² + 235(Lv)

Level
HP

1.75(Lv)² + 235(Lv)

1
236
19
5,096
STR

([6.1(Lv)] + [(Lv) / 4] - [(Lv)² / 420] + 55) / 4

MAG

([8(Lv)] + [(Lv) / 2] - [(Lv)² / 200] + 100) / 4

STR

([6.1(Lv)] + [(Lv) / 4] - [(Lv)² / 420] + 55) / 4

MAG

([8(Lv)] + [(Lv) / 2] - [(Lv)² / 200] + 100) / 4

15
27
43
65
VIT

((Lv) / 8) - [(Lv) / 2] + (Lv) + 70

SPR

((Lv) / 2) - (Lv) + (Lv) + 120

VIT

((Lv) / 8) - [(Lv) / 2] + (Lv) + 70

SPR

((Lv) / 2) - (Lv) + (Lv) + 120

71
120
82
129
SPD

((Lv) / 2) - [(Lv) / 4] + 5

EVA

((Lv) / 8) - [(Lv) / 16]

SPD

((Lv) / 2) - [(Lv) / 4] + 5

EVA

((Lv) / 8) - [(Lv) / 16]

5
0
10
1
EXP

20(Lv)² + 80

AP
EXP

20(Lv)² + 80

AP
100
6
460
6
Elemental affinities
100%
100%
200%
100%
100%
100%
-100%

Absorbs

100%
Damage
Restorative
Ground
Gravity
100%
Absorb
Damage
Damage
Location
Galbadia Continent
(Island Closest to Hell (Level 100 only))
Trabia continent
(Trabia Crater, Bika Snowfield, Hawkwind Plains, Winter Island)
Deep Sea Research Center (Resupply room)
Ultimecia Castle
(Treasure Room, Chapel, Art Gallery)
Scan
A dragon that walks on 2 legs. Attacks with breath that causes status changes and drops a rare item called Fury Fragment.
Class
None
Card
Blue Dragon (93.7%)
Mobile Type 8 (6.3%)
Mug (50%)
Fury Fragment (89.5%)
Fury Fragment x2 (10.5%)
Item drop (99%)
Card Drop (3.5%)
Blue Dragon
Draw
Blind
Devour
Delicious!!!
Abilities
Grab Punch, Drain, Break, Bio, Breath, Death, Reflect, Blind
Other information
None
Blue Dragon
ドラゴンイゾルデ (

Doragonizorude

?)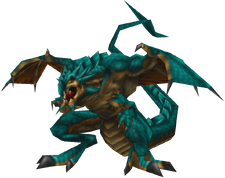 Statistics
Level
HP

1.75(Lv)² + 235(Lv)

Level
HP

1.75(Lv)² + 235(Lv)

20
5,400
29
8,286
STR

([6.1(Lv)] + [(Lv) / 4] - [(Lv)² / 420] + 55) / 4

MAG

([8(Lv)] + [(Lv) / 2] - [(Lv)² / 200] + 100) / 4

STR

([6.1(Lv)] + [(Lv) / 4] - [(Lv)² / 420] + 55) / 4

MAG

([8(Lv)] + [(Lv) / 2] - [(Lv)² / 200] + 100) / 4

45
67
59
85
VIT

((Lv) / 8) - [(Lv) / 2] + (Lv) + 70

SPR

((Lv) / 2) - (Lv) + (Lv) + 120

VIT

((Lv) / 8) - [(Lv) / 2] + (Lv) + 70

SPR

((Lv) / 2) - (Lv) + (Lv) + 120

82
130
88
134
SPD

((Lv) / 2) - [(Lv) / 4] + 5

EVA

((Lv) / 8) - [(Lv) / 16]

SPD

((Lv) / 2) - [(Lv) / 4] + 5

EVA

((Lv) / 8) - [(Lv) / 16]

10
1
12
2
EXP

20(Lv)² + 80

AP
EXP

20(Lv)² + 80

AP
480
6
660
6
Elemental affinities
100%
100%
200%
100%
100%
100%
-100%

Absorbs

100%
Damage
Restorative
Ground
Gravity
100%
Absorb
Damage
Damage
Location
Galbadia Continent
(Island Closest to Hell (Level 100 only))
Trabia continent
(Trabia Crater, Bika Snowfield, Hawkwind Plains, Winter Island)
Deep Sea Research Center (Resupply room)
Ultimecia Castle
(Treasure Room, Chapel, Art Gallery)
Scan
A dragon that walks on 2 legs. Attacks with breath that causes status changes and drops a rare item called Fury Fragment.
Class
None
Card
Blue Dragon (93.7%)
Mobile Type 8 (6.3%)
Mug (50%)
Fury Fragment (89.5%)
Fury Fragment x2 (10.5%)
Item drop (99%)
Card Drop (3.5%)
Blue Dragon
Draw
Blind
Drain
Bio
Devour
Refreshing!
Abilities
Grab Punch, Drain, Break, Bio, Breath, Death, Reflect, Blind
Other information
None
Blue Dragon
ドラゴンイゾルデ (

Doragonizorude

?)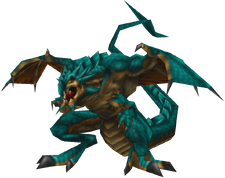 Statistics
Level
HP

1.75(Lv)² + 235(Lv)

Level
HP

1.75(Lv)² + 235(Lv)

30
8,625
100
41,000
STR

([6.1(Lv)] + [(Lv) / 4] - [(Lv)² / 420] + 55) / 4

MAG

([8(Lv)] + [(Lv) / 2] - [(Lv)² / 200] + 100) / 4

STR

([6.1(Lv)] + [(Lv) / 4] - [(Lv)² / 420] + 55) / 4

MAG

([8(Lv)] + [(Lv) / 2] - [(Lv)² / 200] + 100) / 4

60
87
166
225
VIT

((Lv) / 8) - [(Lv) / 2] + (Lv) + 70

SPR

((Lv) / 2) - (Lv) + (Lv) + 120

VIT

((Lv) / 8) - [(Lv) / 2] + (Lv) + 70

SPR

((Lv) / 2) - (Lv) + (Lv) + 120

88
135
132
170
SPD

((Lv) / 2) - [(Lv) / 4] + 5

EVA

((Lv) / 8) - [(Lv) / 16]

SPD

((Lv) / 2) - [(Lv) / 4] + 5

EVA

((Lv) / 8) - [(Lv) / 16]

13
2
30
6
EXP

20(Lv)² + 80

AP
EXP

20(Lv)² + 80

AP
680
6
2,080
6
Elemental affinities
100%
100%
200%
100%
100%
100%
-100%

Absorbs

100%
Damage
Restorative
Ground
Gravity
100%
Absorb
Damage
Damage
Location
Galbadia Continent
(Island Closest to Hell (Level 100 only))
Trabia continent
(Trabia Crater, Bika Snowfield, Hawkwind Plains, Winter Island)
Deep Sea Research Center (Resupply room)
Ultimecia Castle
(Treasure Room, Chapel, Art Gallery)
Scan
A dragon that walks on 2 legs. Attacks with breath that causes status changes and drops a rare item called Fury Fragment.
Class
None
Card
Blue Dragon (93.7%)
Mobile Type 8 (6.3%)
Mug (50%)
Fury Fragment (89.5%)
Fury Fragment x2 (10.5%)
Item drop (99%)
Card Drop (3.5%)
Blue Dragon
Draw
Drain
Break
Death
Bio
Devour
Refreshing!
Abilities
Grab Punch, Drain, Break, Bio, Breath, Death, Reflect, Blind
Other information
None
| Lv | HP | STR | MAG | VIT | SPR | SPD | EVA | EXP |
| --- | --- | --- | --- | --- | --- | --- | --- | --- |
| 1 | 236 | 15 | 27 | 71 | 120 | 5 | 0 | 100 |
| 2 | 477 | 16 | 29 | 71 | 121 | 6 | 0 | 120 |
| 3 | 720 | 18 | 31 | 72 | 121 | 6 | 0 | 140 |
| 4 | 968 | 20 | 33 | 72 | 122 | 6 | 0 | 160 |
| 5 | 1218 | 21 | 35 | 73 | 122 | 6 | 0 | 180 |
| 6 | 1473 | 23 | 37 | 73 | 123 | 7 | 0 | 200 |
| 7 | 1730 | 24 | 39 | 74 | 123 | 7 | 0 | 220 |
| 8 | 1992 | 26 | 42 | 75 | 124 | 7 | 1 | 240 |
| 9 | 2256 | 27 | 44 | 76 | 124 | 7 | 1 | 260 |
| 10 | 2525 | 29 | 46 | 76 | 125 | 8 | 1 | 280 |
| Lv | HP | STR | MAG | VIT | SPR | SPD | EVA | EXP |
| --- | --- | --- | --- | --- | --- | --- | --- | --- |
| 11 | 2796 | 31 | 48 | 77 | 125 | 8 | 1 | 300 |
| 12 | 3072 | 32 | 50 | 77 | 126 | 8 | 1 | 320 |
| 13 | 3350 | 34 | 52 | 78 | 126 | 8 | 1 | 340 |
| 14 | 3633 | 35 | 54 | 78 | 127 | 9 | 1 | 360 |
| 15 | 3918 | 37 | 56 | 79 | 127 | 9 | 1 | 380 |
| 16 | 4208 | 39 | 58 | 80 | 128 | 9 | 1 | 400 |
| 17 | 4500 | 40 | 60 | 81 | 128 | 9 | 1 | 420 |
| 18 | 4797 | 42 | 63 | 81 | 129 | 10 | 1 | 440 |
| 19 | 5096 | 43 | 65 | 82 | 129 | 10 | 1 | 460 |
| 20 | 5400 | 45 | 67 | 82 | 130 | 10 | 1 | 480 |
| Lv | HP | STR | MAG | VIT | SPR | SPD | EVA | EXP |
| --- | --- | --- | --- | --- | --- | --- | --- | --- |
| 21 | 5706 | 46 | 69 | 83 | 130 | 10 | 1 | 500 |
| 22 | 6017 | 48 | 71 | 83 | 131 | 11 | 1 | 520 |
| 23 | 6330 | 49 | 73 | 84 | 131 | 11 | 1 | 540 |
| 24 | 6648 | 51 | 75 | 85 | 132 | 11 | 2 | 560 |
| 25 | 6968 | 53 | 77 | 86 | 132 | 11 | 2 | 580 |
| 26 | 7293 | 54 | 79 | 86 | 133 | 12 | 2 | 600 |
| 27 | 7620 | 56 | 81 | 87 | 133 | 12 | 2 | 620 |
| 28 | 7952 | 57 | 83 | 87 | 134 | 12 | 2 | 640 |
| 29 | 8286 | 59 | 85 | 88 | 134 | 12 | 2 | 660 |
| 30 | 8625 | 60 | 87 | 88 | 135 | 13 | 2 | 680 |
| Lv | HP | STR | MAG | VIT | SPR | SPD | EVA | EXP |
| --- | --- | --- | --- | --- | --- | --- | --- | --- |
| 31 | 8966 | 62 | 89 | 89 | 135 | 13 | 2 | 700 |
| 32 | 9312 | 64 | 91 | 90 | 136 | 13 | 2 | 720 |
| 33 | 9660 | 65 | 93 | 91 | 136 | 13 | 2 | 740 |
| 34 | 10013 | 67 | 96 | 91 | 137 | 14 | 2 | 760 |
| 35 | 10368 | 68 | 97 | 92 | 137 | 14 | 2 | 780 |
| 36 | 10728 | 70 | 100 | 92 | 138 | 14 | 2 | 800 |
| 37 | 11090 | 71 | 102 | 93 | 138 | 14 | 2 | 820 |
| 38 | 11457 | 73 | 104 | 93 | 139 | 15 | 2 | 840 |
| 39 | 11826 | 74 | 106 | 94 | 139 | 15 | 2 | 860 |
| 40 | 12200 | 76 | 108 | 95 | 140 | 15 | 3 | 880 |
| Lv | HP | STR | MAG | VIT | SPR | SPD | EVA | EXP |
| --- | --- | --- | --- | --- | --- | --- | --- | --- |
| 41 | 12576 | 77 | 110 | 96 | 140 | 15 | 3 | 900 |
| 42 | 12957 | 79 | 112 | 96 | 141 | 16 | 3 | 920 |
| 43 | 13340 | 80 | 114 | 97 | 141 | 16 | 3 | 940 |
| 44 | 13728 | 82 | 116 | 97 | 142 | 16 | 3 | 960 |
| 45 | 14118 | 84 | 118 | 98 | 142 | 16 | 3 | 980 |
| 46 | 14513 | 85 | 120 | 98 | 143 | 17 | 3 | 1000 |
| 47 | 14910 | 86 | 122 | 99 | 143 | 17 | 3 | 1020 |
| 48 | 15312 | 88 | 124 | 100 | 144 | 17 | 3 | 1040 |
| 49 | 15716 | 90 | 126 | 101 | 144 | 17 | 3 | 1060 |
| 50 | 16125 | 91 | 128 | 101 | 145 | 18 | 3 | 1080 |
| Lv | HP | STR | MAG | VIT | SPR | SPD | EVA | EXP |
| --- | --- | --- | --- | --- | --- | --- | --- | --- |
| 51 | 16536 | 93 | 130 | 102 | 145 | 18 | 3 | 1100 |
| 52 | 16952 | 94 | 132 | 102 | 146 | 18 | 3 | 1120 |
| 53 | 17370 | 96 | 134 | 103 | 146 | 18 | 3 | 1140 |
| 54 | 17793 | 97 | 136 | 103 | 147 | 19 | 3 | 1160 |
| 55 | 18218 | 99 | 138 | 104 | 147 | 19 | 3 | 1180 |
| 56 | 18648 | 100 | 140 | 105 | 148 | 19 | 4 | 1200 |
| 57 | 19080 | 102 | 142 | 106 | 148 | 19 | 4 | 1220 |
| 58 | 19517 | 103 | 144 | 106 | 149 | 20 | 4 | 1240 |
| 59 | 19956 | 105 | 146 | 107 | 149 | 20 | 4 | 1260 |
| 60 | 20400 | 107 | 148 | 107 | 150 | 20 | 4 | 1280 |
| Lv | HP | STR | MAG | VIT | SPR | SPD | EVA | EXP |
| --- | --- | --- | --- | --- | --- | --- | --- | --- |
| 61 | 20846 | 108 | 150 | 108 | 150 | 20 | 4 | 1300 |
| 62 | 21297 | 109 | 152 | 108 | 151 | 21 | 4 | 1320 |
| 63 | 21750 | 111 | 154 | 109 | 151 | 21 | 4 | 1340 |
| 64 | 22208 | 113 | 156 | 110 | 152 | 21 | 4 | 1360 |
| 65 | 22668 | 114 | 157 | 111 | 152 | 21 | 4 | 1380 |
| 66 | 23133 | 115 | 160 | 111 | 153 | 22 | 4 | 1400 |
| 67 | 23600 | 117 | 161 | 112 | 153 | 22 | 4 | 1420 |
| 68 | 24072 | 118 | 163 | 112 | 154 | 22 | 4 | 1440 |
| 69 | 24546 | 120 | 165 | 113 | 154 | 22 | 4 | 1460 |
| 70 | 25025 | 122 | 167 | 113 | 155 | 23 | 4 | 1480 |
| Lv | HP | STR | MAG | VIT | SPR | SPD | EVA | EXP |
| --- | --- | --- | --- | --- | --- | --- | --- | --- |
| 71 | 25506 | 123 | 169 | 114 | 155 | 23 | 4 | 1500 |
| 72 | 25992 | 125 | 171 | 115 | 156 | 23 | 5 | 1520 |
| 73 | 26480 | 126 | 173 | 116 | 156 | 23 | 5 | 1540 |
| 74 | 26973 | 127 | 175 | 116 | 157 | 24 | 5 | 1560 |
| 75 | 27468 | 129 | 177 | 117 | 157 | 24 | 5 | 1580 |
| 76 | 27968 | 131 | 179 | 117 | 158 | 24 | 5 | 1600 |
| 77 | 28470 | 132 | 181 | 118 | 158 | 24 | 5 | 1620 |
| 78 | 28977 | 133 | 183 | 118 | 159 | 25 | 5 | 1640 |
| 79 | 29486 | 135 | 185 | 119 | 159 | 25 | 5 | 1660 |
| 80 | 30000 | 137 | 187 | 120 | 160 | 25 | 5 | 1680 |
| Lv | HP | STR | MAG | VIT | SPR | SPD | EVA | EXP |
| --- | --- | --- | --- | --- | --- | --- | --- | --- |
| 81 | 30516 | 138 | 189 | 121 | 160 | 25 | 5 | 1700 |
| 82 | 31037 | 139 | 191 | 121 | 161 | 26 | 5 | 1720 |
| 83 | 31560 | 141 | 192 | 122 | 161 | 26 | 5 | 1740 |
| 84 | 32088 | 143 | 194 | 122 | 162 | 26 | 5 | 1760 |
| 85 | 32618 | 144 | 196 | 123 | 162 | 26 | 5 | 1780 |
| 86 | 33153 | 145 | 198 | 123 | 163 | 27 | 5 | 1800 |
| 87 | 33690 | 147 | 200 | 124 | 163 | 27 | 5 | 1820 |
| 88 | 34232 | 148 | 202 | 125 | 164 | 27 | 6 | 1840 |
| 89 | 34776 | 150 | 204 | 126 | 164 | 27 | 6 | 1860 |
| 90 | 35325 | 151 | 206 | 126 | 165 | 28 | 6 | 1880 |
| Lv | HP | STR | MAG | VIT | SPR | SPD | EVA | EXP |
| --- | --- | --- | --- | --- | --- | --- | --- | --- |
| 91 | 35876 | 153 | 208 | 127 | 165 | 28 | 6 | 1900 |
| 92 | 36432 | 154 | 210 | 127 | 166 | 28 | 6 | 1920 |
| 93 | 36990 | 156 | 211 | 128 | 166 | 28 | 6 | 1940 |
| 94 | 37553 | 157 | 213 | 128 | 167 | 29 | 6 | 1960 |
| 95 | 38118 | 159 | 215 | 129 | 167 | 29 | 6 | 1980 |
| 96 | 38688 | 160 | 217 | 130 | 168 | 29 | 6 | 2000 |
| 97 | 39260 | 162 | 219 | 131 | 168 | 29 | 6 | 2020 |
| 98 | 39837 | 163 | 221 | 131 | 169 | 30 | 6 | 2040 |
| 99 | 40416 | 164 | 223 | 132 | 169 | 30 | 6 | 2060 |
| 100 | 41000 | 166 | 225 | 132 | 170 | 30 | 6 | 2080 |
The Blue Dragon is an enemy in Final Fantasy VIII.
Its Grab Punch will always inflict critical damage. The Blue Dragon relies heavily on status attacks, and is weak against Ice. They are susceptible to instant death.
Blue Dragons are a good source of AP to learn abilities fairly early in the game, and also a source of Dragon Fangs needed to model Squall's ultimate weapon, Lionheart.
Strategy
Edit
It is possible to kill them by draw-casting Death from the monster itself. Junctioning 100 Deaths to Status Attack kills them in one hit.
Other appearances
Edit
This article or section is a stub about an enemy in Pictlogica Final Fantasy. You can help the Final Fantasy Wiki by expanding it.
Blue Dragon from Final Fantasy VIII appears as an enemy in Final Fantasy Record Keeper.

Etymology
Edit
[view · edit · purge]A dragon is a legendary creature, typically with serpentine or reptilian traits, that features in the myths of many cultures.
Ad blocker interference detected!
Wikia is a free-to-use site that makes money from advertising. We have a modified experience for viewers using ad blockers

Wikia is not accessible if you've made further modifications. Remove the custom ad blocker rule(s) and the page will load as expected.