Relm:

I couldn't miss the chance to practice my drawing!

This article is in need of a few pictures. Perhaps you can help by uploading a picture.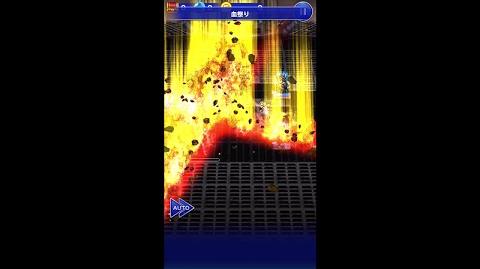 Bloodfest (血祭 or 血祭り, Chimatsuri?, lit. Blood Festival or Bloodbath) is a recurring ability in the series. It is a Limit Break first used by Yuffie Kisaragi and later by Seifer Almasy, which deals heavy non-elemental physical damage to all enemies.
Appearances
Edit
VII Bloodfest is the Level 2-2 Limit for Yuffie, obtained after using Landscaper 7 times. It inflicts ten hits of non-elemental physical damage at 5⁄8 times normal damage each time to random enemies.
VIII Bloodfest is an enemy ability used by Seifer during the final boss fight with him at Lunatic Pandora, used when his HP is low. In the beginning of the skill, Seifer attacks all of his enemies with fire spells, jumps high in the air and swings his gunblade twice, vertically and horizontally, forming a fiery cross on the ground beneath his adversaries' feet. The cross explodes, a hole opens up in the ground and the enemies fall into it. They keep falling through an underworld-like space before suddenly falling back to the ground, heavily damaged.
XIV Chimatsuri is the level 3 Limit Break ability used by the Ninja job. The Ninja summons a large number of blades to skewer a single target, dealing major physical damage.
FFRK Bloodfest is an enemy ability used by Seifer in the final battle at Lunatic Pandora, which inflicts major non-elemental physical damage to the party.