Ad blocker interference detected!
Wikia is a free-to-use site that makes money from advertising. We have a modified experience for viewers using ad blockers

Wikia is not accessible if you've made further modifications. Remove the custom ad blocker rule(s) and the page will load as expected.
Cid:

Oh, shut up and help me remodel the Blood Madness page!

Please expand this article into a full one. More details can be found, and this request can be discussed, on the associated

discussion page

.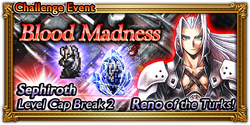 Blood Madness (狂気の血脈, Kyōki no Kechimyaku?, lit. The Blood of Insanity) was a single-track Challenge Event in Final Fantasy Record Keeper. Returning to the Realm of Final Fantasy VII, players worked through the team's battles with the Shinra Electric Power Company's resistance, including Turks operative Reno, in pursuit of Sephiroth. Cid and Red XIII also joined the fight. All characters also receive their Memory Crystals I, while Sephiroth returned to a starring role with a chance at acquiring his Memory Crystal II and Yoshiyuki katana. In the global release, this event ran from December 15 to December 25, 2015 (UTC).
During the run of this event, all characters save Reno were otherwise available in the main game. Zack and Barret were added as bonus characters prior to the event's debut. Cid and his Memory Crystal would otherwise require completion of dungeons rated 90 or higher.
The event main theme was "One-Winged Angel" from Final Fantasy VII.
As the first event of the third major wave that began December 14, 2015, Blood Madness was the first event to use an opening FMV. Players were introduced with a clip of Sephiroth walking amid the burning of Nibelheim.
This is the first event in which the leading character (Sephiroth) is not at the topmost dungeon. This role fell to Reno, a minor antagonist in the source story.

This article or section is a stub about Final Fantasy Record Keeper. You can help the Final Fantasy Wiki by expanding it.