The 4 Heroes of Light Enemy
Blood Bat
ブラッドバット (Buraddobatto)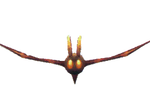 Statistics
Level
HP
Weight
2
4 -5
N/A
Strength
Intellect
Spirit
2
2
2
Attack
Accuracy
Defense
2
96
1
M. Def.
Evasion
M. Eva.
2
2
2
Blood Bat
ブラッドバット (Buraddobatto)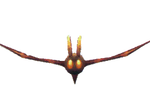 Statistics
Level
HP
Weight
90
760 - 950
N/A
Strength
Intellect
Spirit
100
12
10
Attack
Accuracy
Defense
52
150
36
M. Def.
Evasion
M. Eva.
32
2
2
{{{3 Name}}}
{{{3 Japanese}}} ({{{3 Romaji}}})
{{{3 Image}}}
Statistics
Level
HP
Weight
{{{3 Lv}}}
{{{3 HP}}}
{{{3 Wei}}}
Strength
Intellect
Spirit
{{{3 Str}}}
{{{3 Int}}}
{{{3 Spr}}}
Attack
Accuracy
Defense
{{{3 Atk}}}
{{{3 Acu}}}
{{{3 Def}}}
M. Def.
Evasion
M. Eva.
{{{3 MagDef}}}
{{{3 Eva}}}
{{{3 MagEva}}}
| | |
| --- | --- |
| Location | {{{3 Location}}} |
| EXP | {{{3 EXP}}} |
| Steal | {{{3 Steal}}} |
| Item Dropped | {{{3 Item}}} |
| Gems Dropped | {{{3 Gems}}} |
| Abilities | {{{3 Ability}}} |
| Status Immunity | {{{3 Resist}}} |
| Other Information | - |
The Blood Bat is an enemy in Final Fantasy: The 4 Heroes of Light fought in North Caves, Guera Caverns and Trial Tower.
The enemy is found roaming inside the North Caves and Guera Caverns. Along with the Goblin, it is one of the weakest enemies in the early stages of the game. The player can easily defeat Blood Bats with a single physical attack.
During Part II, Blood Bats can only be found inside the Trial Tower bonus dungeon. When they are encountered in the Trial Tower, the Blood Bats receive higher stats and use Bloodfeast more often. When fighting Blood Bats, it is highly advised of the player to have high level armor and to attack with Bladeblitz and high level spells.
Related enemies
Edit
Ad blocker interference detected!
Wikia is a free-to-use site that makes money from advertising. We have a modified experience for viewers using ad blockers

Wikia is not accessible if you've made further modifications. Remove the custom ad blocker rule(s) and the page will load as expected.