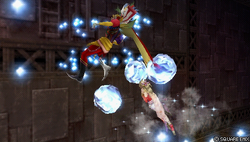 Blizzard Combo (ブリザドコンボ, Burizado Konbo?) is a recurring ability in the series. It is an ability used exclusively by Terra Branford, which involves using the Blizzard spell as a form of melee.
Appearances
Edit
Dissidia Blizzard Combo is a magical Bravery attack for Terra, learned initially for the ground version and at level 6 for the midair version. Both require 30 CP to equip (15 when mastered), both have Melee Low priority, and both can induce Wall Rush, but the ground version requires 180 AP to master while the aerial version requires 140 AP to master. Terra spins forward while striking the opponent with ice, then hits twice more and knocks them away.
Dissidia012 Blizzard Combo is a Bravery Attack for Terra, obtained at level 16 for the midair version. Both versions are nearly identical to their previous versions, but now both require 100 AP to master. After hitting the enemy with the attack, tilting the analog stick up will knock the enemy up instead of forward.