Relm:

I couldn't miss the chance to practice my drawing!

This article is in need of a few pictures. Perhaps you can help by uploading a picture.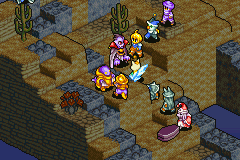 Blizzard Blade (ブリザド剣, Burizado Ken?), also known as Blizzard Sword, Ice Brand, Blizzard Blade, or simply Blizzard or Ice, is a recurring ability in the Final Fantasy series. It is always an Ice-elemental attack to one target, and is mainly attributed with the ability Spellblade.
Appearances
Edit
V Blizzard is a level 1 Spellblade that can be used by Mystic Knights. It can be used for 2 MP, and is mastered for 20 AP.
FFVIICC Blizzard Blade is a Command Materia and ability. Zack lifts his sword then cleaves his sword from left to right, dealing a small amount of physical damage and the Blizzard spell to a enemy. Blizzard Blade does moderate damage against Fire-based enemies. It is a Level 1 Command Materia that can be created via Materia Fusion and stolen from Crescent Unit Plenum.
IX Blizzard Sword can be used by Steiner as a Sword Magic skill when he is paired with Vivi in a party.
X-2 Ice Brand, learned by Warriors, is an Ice-elemental attack to one target. It requires 20 AP to learn and 4 MP to cast.
TA Ice Sword is learned through the Ice Brand for 200 JP by Gladiators. It costs 10 MP and functions the same as a physical attack, but is Ice-elemental. Ice Sword has a Weapon Attack Power of 54 and is also susceptible to Absorb MP.
BD Blizzard is a level 1 Sword Magic ability which costs 5 MP to cast. It adds a low-powered Water-element to the user's weapon.
FFD Freezing Slash is an ability of the Magic Blade skillset, used by the Red Mage class. It costs 8 MP to use.
FFBE
Blizzard Blade is an special ability that deals ice hybrid damage (1.2x) to one enemy and costs 3 MP. Blizzard Blade is learned only by Ronaldo at level 1 (2★), but can be crafted upon obtaining its recipe in Dalnakya Cavern exploration, from inside a Silver Chest. The required materials are Ice Cryst x1, Farplane Soul x1, Broken Blade x1, Alcryst x1; it costs 200 gil and takes 5 min to be complete.