Relm:

I couldn't miss the chance to practice my drawing!

This article is in need of a few pictures. Perhaps you can help by uploading a picture.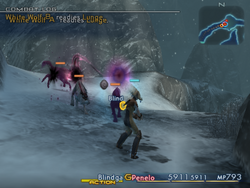 Blindga (ブライガ, Buraiga?) is a recurring spell from the Final Fantasy series. It is the upgraded spell for Blind, and generally targets all of the opponent's party.
Appearances
Edit
XI Blindga is a spell only used by certain Notorious Monsters, such as Vrtra and Diabolos.
XII Blindga is a Green Magick spell and essentially casts Blind to all targets in range for 20 MP. It has slightly less base accuracy than the regular Blind spell, with 55% compared to Blind's 60%. Blindga is found in the License Board as Green Magick 5 and costs 45 License Points. The spell itself can be bought in Archades for 6,800 gil.
In the Zodiac versions, Blindga is one of the few Green Magicks that have been changed into a Black Magick spell. Its license, Black Magick 7, costs 60 LP, but the spell itself cannot be bought; it is found in a chest in the Field of Eternity area of the Tchita Uplands. Blindga can be used by two job classes, Black Mage and Uhlan, though Uhlan can only learn it by obtaining the Esper Chaos License first.
FFXIIRW Blindga is a spell learned by enemy Black Mages that inflicts the Blind status to a small radius of enemies.