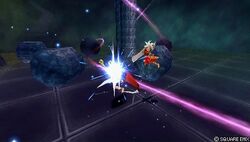 Blade Torrent (流剣の舞, Ruken no Mai?) is a recurring ability in the series.
Appearances
Edit
Dissidia Blade Torrent is a ground physical HP attack for Onion Knight, learned at the start of the game. It requires 40 CP to equip (20 when mastered), 180 AP to master, has Melee High priority, and can induce Wall Rush. It has him pause for a moment, then leap forward and into the air, rapidly teleporting around the opponent to attack with his sword if the first strike is successful.
Dissidia012 Blade Torrent returns as a HP attack for Onion Knight, now requiring 30 CP to equip (15 when mastered) and 130 AP to master. It is otherwise the same as before.