Cid:

Oh, shut up and help me remodel the Black Mask (Final Fantasy II) page!

Please expand this article into a full one. More details can be found, and this request can be discussed, on the associated

discussion page

.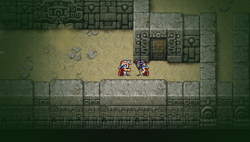 The Black Mask is a key item in Final Fantasy II. It is obtained on the Tropical Island, and along with the White Mask, is necessary in obtaining the Crystal Rod.