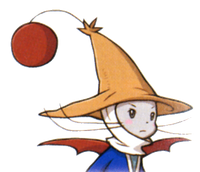 A potent arsenal of offensive magicks await the black mage's foes.
—Description
The Black Mage is an enemy moogle Sky Pirate job from Final Fantasy XII: Revenant Wings. It is a Ranged unit, with very high Magick and Mind stats but low HP.
The Black Mage learns a variety of elemental spells similar to the playable character Kytes, in addition to a couple of debuffing abilities. Different enemy Black Mages have different basic attacks, varying by elemental affinity.
| Skill | Effect |
| --- | --- |
| Fire/Blizzard/Thunder | Basic - Deal fire/water/lightning damage to one foe. |
| Firaga | Deal Fire damage to all foes in range. |
| Bio | Inflicts Poison on all foes in range. |
| Blindga | Inflict Blind on all foes in range. |
| Sleepga | Puts all foes in range to sleep. |
| Silencega | Prevent all foes in range from casting magicks. |
| Confusega | Cause all foes in range to Confuse friend with foe. |
| Flare | Deal heavy damage to one foe. |
| Whistlewind | Passive - Reduces summoning time. |
Cloud:

I couldn't finish 'em. Looks like this's gonna get complicated.

The following tables are incomplete and require the Japanese, romaji entries to be filled. If you wish, please examine the table and add anything missing. Remove this notice upon completion.
Missions
Edit
Final Fantasy XII: Revenant Wings Enemy
Poof the Moogle
({{{japan}}},

{{{romaji}}}

?)
Level
HP
7
322
Str
Mag
Stm
Mnd
56
81
65
65
Atk
MAtk
Def
MDef
19
30
26
36
Speed
AtkSpd
MvSpd
Sight
65
37
0.714
4
| | |
| --- | --- |
| Location | {{{Location}}} |
| Type | Ranged |
| Nature | Fire |
| Weak Against | None |
| Resistant to | None |
| Immune to | None |
Final Fantasy XII: Revenant Wings Enemy
Well-Bred Sky Pirate
({{{japan}}},

{{{romaji}}}

?)
Level
HP
7
322
Str
Mag
Stm
Mnd
56
81
65
65
Atk
MAtk
Def
MDef
19
30
26
36
Speed
AtkSpd
MvSpd
Sight
65
37
0.714
4
| | |
| --- | --- |
| Location | {{{Location}}} |
| Type | Ranged |
| Nature | Fire |
| Weak Against | None |
| Resistant to | None |
| Immune to | None |
Final Fantasy XII: Revenant Wings Enemy
Clan Archimagus
({{{japan}}},

{{{romaji}}}

?)
Level
HP
9
334
Str
Mag
Stm
Mnd
64
94
75
75
Atk
MAtk
Def
MDef
26
43
28
38
Speed
AtkSpd
MvSpd
Sight
75
37
0.714
4
| | |
| --- | --- |
| Location | {{{Location}}} |
| Type | Ranged |
| Nature | Earth |
| Weak Against | None |
| Resistant to | None |
| Immune to | None |
Final Fantasy XII: Revenant Wings Enemy
Macaron the Mystical
({{{japan}}},

{{{romaji}}}

?)
Level
HP
18
388
Str
Mag
Stm
Mnd
100
154
120
125
Atk
MAtk
Def
MDef
45
78
50
71
Speed
AtkSpd
MvSpd
Sight
120
37
0.714
4
| | |
| --- | --- |
| Location | {{{Location}}} |
| Type | Ranged |
| Nature | Water |
| Weak Against | Fire |
| Resistant to | Water |
| Immune to | None |
Final Fantasy XII: Revenant Wings Enemy
Black Mage
({{{japan}}},

{{{romaji}}}

?)
Level
HP
Party's Average Level -1
280 - 874
Str
Mag
Stm
Mnd
28 - 424
32 - 626
30 - 525
30 - 525
Atk
MAtk
Def
MDef
17 - 116
28 - 176
17 - 141
27 - 151
Speed
AtkSpd
MvSpd
Sight
30 - 525
36
0.714
4
| | |
| --- | --- |
| Location | {{{Location}}} |
| Type | Ranged |
| Nature | Varies |
| Weak Against | Varies |
| Resistant to | Varies |
| Immune to | None |