Ad blocker interference detected!
Wikia is a free-to-use site that makes money from advertising. We have a modified experience for viewers using ad blockers

Wikia is not accessible if you've made further modifications. Remove the custom ad blocker rule(s) and the page will load as expected.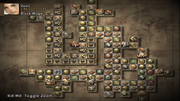 Black Mage (黒魔道士, Kuromadōshi?) is a License Board in Final Fantasy XII International Zodiac Job System. It is represented by the Zodiac Sign of Capricorn.
Black Mage is a Magical Class that uses Black Magick as its main means of attack. They come equipped with Staves or Hand-bombs and Mystical Armor to boost their Magic power but, interestingly, they can also equip a few Heavy Armors. Their high damage output and ability to target multiple enemies make them excel in taking out mobs of enemies quickly.
However, they cannot use weapons with high attack power, have few restorative magicks and low HP.
The Black Mage has access to 137 licenses, which require 8,086 LP to unlock, as well as up to 12 additional licenses through summon licenses costing 780 LP, and 2 additional licenses costing 145 LP through quickening licenses.
License Board
Edit
Legend
edged weapons
blunt weapons
piercing weapons
Armor
Accessory
Magick
Technick
Augment
Command
Gambit
Summon
Quickening
| | A | B | C | D | E | F | G | H | I | J | K | L | M | N | O | P | Q | R |
| --- | --- | --- | --- | --- | --- | --- | --- | --- | --- | --- | --- | --- | --- | --- | --- | --- | --- | --- |
| 1 | | | | | | | | | | | | | | | | | | |
| 2 | | | | | | | | | | | | | | | | | | |
| 3 | | | | | | | | | | | | | | | | | | |
| 4 | | | | | | | | | | | | | | | | | | |
| 5 | | | | | | | | | | | | | | | | | | |
| 6 | | | | | | | | | | | | | | | | | | |
| 7 | | | | | | | | | | | | | | | | | | |
| 8 | | | | | | | | | | | | | | | | | | |
| 9 | | | | | | | | | | | | | | | | | | |
| 10 | | | | | | | | | | | | | | | | | | |
| 11 | | | | | | | | | | | | | | | | | | |
| 12 | | | | | | | | | | | | | | | | | | |
| 13 | | | | | | | | | | | | | | | | | | |
| 14 | | | | | | | | | | | | | | | | | | |
| 15 | | | | | | | | | | | | | | | | | | |
| 16 | | | | | | | | | | | | | | | | | | |
| 17 | | | | | | | | | | | | | | | | | | |
| 18 | | | | | | | | | | | | | | | | | | |
| 19 | | | | | | | | | | | | | | | | | | |
License list
Edit
Equipment
Edit
| Name | Description | LP cost |
| --- | --- | --- |
| Hand-bombs (2) | Lets the character equip Fumarole and Tumulus. | 55 |
| Hand-bombs (3) | Lets the character equip Caldera and Volcano. | 75 |
| Hand-bombs (4) | Lets the character equip Volcano T. | 105 |
| Staves (1) | Lets the character equip the Oak Staff. | 15 |
| Staves (2) | Lets the character equip the Sakura Staff and Wizard's Staff. | 25 |
| Staves (3) | Lets the character equip the Flame Staff and Storm Staff. | 30 |
| Staves (4) | Lets the character equip the Glacial Staff and Golden Staff. | 40 |
| Staves (5) | Lets the character equip the Judicer's Staff and Cloud Staff. | 65 |
| Staff of the Magi | Lets the character equip the Staff of the Magi. | 115 |
| Mystic Armor (1) | Lets the character equip Cotton Shirt, Light Woven Shirt, Cotton Cap, Magick Curch. | 10 |
| Mystic Armor (2) | Lets the character equip Silken Shirt, Kilimweave Shirt, Pointy Hat, Topkapi Hat. | 15 |
| Mystic Armor (3) | Lets the character equip Shepherd's Bolero, Wizard's Robe, Calot Hat, Wizard's Hat. | 20 |
| Mystic Armor (4) | Lets the character equip Chanter's Djellaba, Traveler's Vestment, Lambent Hat, Feathered Cap. | 25 |
| Mystic Armor (5) | Lets the character equip Mage's Habit, Enchanter's Habit,Mage's Hat, Lamia's Tiara. | 30 |
| Mystic Armor (6) | Lets the character equip Sorcerer's Habit, Black Garb, Sorcerer's Hat, Black Cowl. | 40 |
| Mystic Armor (7) | Lets the character equip Carmagnole, Maduin Gear, Gaia Hat, Astrakhan. | 50 |
| Mystic Armor (8) | Lets the character equip Jade Gown, Gaia Gear, Hypnocrown, Gold Hairpin. | 60 |
| Mystic Armor (9) | Lets the character equip Cleric's Robes, Celebrant's Miter. | 70 |
| Mystic Armor (10) | Lets the character equip Black Robes, Black Mask. | 75 |
| Mystic Armor (11) | Lets the character equip White Robes, White Mask. | 80 |
| Mystic Armor (12) | Lets the character equip Glimmering Robes, Golden Skullcap. | 90 |
| Mystic Armor (13) | Lets the character equip Lordly Robes, Circlet. | 110 |
| Heavy Armor (7) | Lets the character equip the Steel Mask and the Mirror Mail. | 60 |
| Heavy Armor (8) | Lets the character equip the Platinum Helm and the Platinum Armor. | 65 |
| Heavy Armor (9) | Lets the character equip the Giant's Helmet and the Carabineer Mail. | 70 |
| Accessory (1) | Lets the character equip Orrachea Armlet. | 5 |
| Accessory (2) | Lets the character equip Bangle and Firefly. | 20 |
| Accessory (3) | Lets the character equip Diamond Armlet and Argyle Armlet. | 25 |
| Accessory (4) | Lets the character equip Battle Harness and Steel Gorget. | 35 |
| Accessory (5) | Lets the character equip Tourmaline Ring and Embroidered Tippet. | 35 |
| Accessory (6) | Lets the character equip Golden Amulet and Leather Gorget. | 35 |
| Accessory (7) | Lets the character equip Rose Corsage and Turtleshell Choker. | 40 |
| Accessory (8) | Lets the character equip Thief's Cuffs and Gauntlets. | 45 |
| Accessory (9) | Lets the character equip Amber Armlet and Black Belt. | 30 |
| Accessory (10) | Lets the character equip Jade Collar and Nishijin Belt. | 40 |
| Accessory (11) | Lets the character equip Pheasant Netsuke and Blazer Gloves. | 45 |
| Accessory (12) | Lets the character equip Gillie Boots and Steel Poleyns. | 60 |
| Accessory (13) | Lets the character equip Berserker and Magick Gloves. | 60 |
| Accessory (14) | Lets the character equip Sage's Ring and Agate Ring. | 70 |
| Accessory (15) | Lets the character equip Ruby Ring and Bowline Sash. | 70 |
| Accessory (16) | Lets the character equip Cameo Belt and Cat-ear Hood. | 70 |
| Accessory (17) | Lets the character equip Bubble Belt and Fuzzy Miter. | 80 |
| Accessory (18) | Lets the character equip Sash and Power Armlet. | 80 |
| Accessory (19) | Lets the character equip Indigo Pendant and Winged Boots. | 100 |
| Accessory (20) | Lets the character equip Opal Ring and Hermes Sandals. | 115 |
| Accessory (21) | Lets the character equip Quasimodo Boots and Nihopalaoa. | 130 |
| Accessory (22) | Lets the character equip Germinas Boots and Ring of Renewal. | 160 |
| Equip Ribbon | Lets the character equip a Ribbon. | 215 |
| Name | Description | LP cost |
| --- | --- | --- |
| Black Magick 1 | Lets the character cast Fire and Thunder. | 15 |
| Black Magick 2 | Lets the character cast Blizzard and Blind. | 20 |
| Black Magick 3 | Lets the character cast Aqua and Silence. | 25 |
| Black Magick 4 | Lets the character cast Aero and Sleep. | 30 |
| Black Magick 5 | Lets the character cast Fira and Poison. | 40 |
| Black Magick 6 | Lets the character cast Thundara and Blizzara. | 50 |
| Black Magick 7 | Lets the character cast Bio and Blindga. | 60 |
| Black Magick 8 | Lets the character cast Aeroga and Silencega. | 70 |
| Black Magick 9 | Lets the character cast Firaga and Thundaga. | 90 |
| Black Magick 10 | Lets the character cast Blizzaga and Sleepga. | 90 |
| Black Magick 11 | Lets the character cast Toxify and Shock. | 100 |
| Black Magick 12 | Lets the character cast Scourge and Flare. | 120 |
| Black Magick 13 | Lets the character cast Scathe | 165 |
| Green Magick 1 | Lets the character cast Decoy and Oil. | 40 |
| Green Magick 2 | Lets the character cast Drain and Reverse. | 50 |
| Green Magick 3 | Lets the character cast Bubble and Syphon. | 90 |
| Name | Description | LP cost |
| --- | --- | --- |
| Charge | Restores amount of users MP. If Technick fails, MP is reduced to 0. | 30 |
| Charm | Causes Confuse to one enemy. | 30 |
| Poach | Captures a HP critical foe to obtain loot. | 30 |
| Steal | Steal item(s) from an enemy. | 20 |
| Telekinesis | Deal ranged damage with melee weapons. | 80 |
| Name | Description | Amount | LP cost |
| --- | --- | --- | --- |
| HP+70/150/190/230/270/310/390 | Increases HP by numbered amount. | 7 | 30/50/60/70/80/90/115 |
| Magick Lore | Increases Magick Power, making spells stronger. | 16 | 30/30/30/30/50/50/50/50/70/70/70/70/100/100/100/100 |
| Remedy Lore 1-2 | Increases Remedy potency to include curing more status effects. | 2 | 30/30 |
| Martyr | Recover MP after taking damage. | 1 | 30 |
| Ether Lore 1-2-3 | Ethers restore 10% more MP per augment. | 3 | 20/35/70 |
| Warmage | Gain MP after dealing magick damage. | 1 | 30 |
| Inquisitor | Recover MP after dealing damage. | 1 | 30 |
| Spellbreaker | Magick power increases when HP critical. | 1 | 65 |
| Headsman | Recover MP when you kill an enemy. | 1 | 30 |
| Swiftness | Action time is reduced by 10%. | 2 | 30/50 |
| Spellbound | Positive buffs last 50% longer. | 1 | 30 |
| Serenity | Magick is 20% stronger while at Full HP. | 1 | 70 |
| Channeling | Magick costs 10% less MP to cast. | 3 | 30/50/80 |