Relm:

I couldn't miss the chance to practice my drawing!

This article is in need of a few pictures. Perhaps you can help by uploading a picture.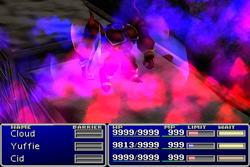 Black Cauldron (暗黒の釜, Ankoku no Kama?, lit. Cauldron of Darkness) is a recurring ability in the series. It is the trademark attack of the summon Hades, which inflicts non-elemental damage to all enemies as well as inflicts various negative status ailments on them.
Appearances
Edit
VII Black Cauldron is the ability of Hades, used at the cost of 150 MP. It deals non-elemental damage to all enemies with a spell power of 90, and inflicts Poison, Confuse, Sleep, Frog, Mini, Silence, Slow, and Paralysis at a 100% chance to enemies not immune to those statuses.