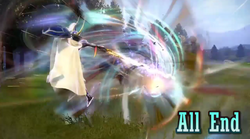 Bitter End (エンドオール, Endo Ōru?, lit. End All) is a recurring ability in the series. It is an ability used exclusively by Warrior of Light.
Appearances
Edit
Dissidia Bitter End is an aerial physical Bravery to HP attack used by Warrior of Light, learned after learning Shield Strike for the A version and Rising Buckler for the B version. Both require 40 CP to equip (20 when mastered), 300 AP to master, and has Melee Mid priority. Warrior of Light attacks the opponent with a flurry of slashes, then knocks them away, generating upwards to 170 EX Force.
Dissidia012 Bitter End returns as a Bravery to HP attack for Warrior of Light, now requiring 30 CP to equip (15 when mastered) 130 AP to master, and now generates 30 EX Force. It is otherwise the same as before.
Ad blocker interference detected!
Wikia is a free-to-use site that makes money from advertising. We have a modified experience for viewers using ad blockers

Wikia is not accessible if you've made further modifications. Remove the custom ad blocker rule(s) and the page will load as expected.