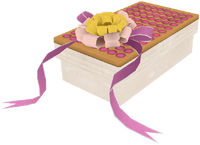 This is ridiculous. Worst birthday ever.
The following is a list of birthdays in the Final Fantasy series. Due to vast differences in the timelines of the series, years will not be noted, only the days and month.
List of birthdays
Edit
September
Edit
Celebrated birthdays
Edit
Birthdays are rarely mentioned in Final Fantasy games. Only a handful of times is a character's birthday addressed, and even fewer are the times when a birthday is celebrated in-game.
Garnet's birthday is celebrated in the opening of Final Fantasy IX.
In Final Fantasy XIII, Lightning's birthday occurs one day prior to the game's introductory sequence.
In Noel Kreiss's dream world in Final Fantasy XIII-2 he hunts a behemorh for Yeul's 15th birthday party.
The description for the Engine Blade in Final Fantasy XV says the sword was a 16th birthday present from King Regis to Prince Noctis.
At the beginning of Final Fantasy: The 4 Heroes of Light, Brandt celebrates his birthday, but his actual birth date is not given.
References
Edit