Biggs
ビッグス (

Biggusu

?)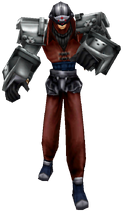 Statistics
Level
HP

0.85(Lv)² + 17(Lv) + 450

Level
HP

0.85(Lv)² + 17(Lv) + 450

1
467
10
705
STR

([5(Lv)] + [(Lv) / 5] - [(Lv)² / 260] + 21) / 4

MAG

([3.7(Lv)] + [(Lv) / 4] - [(Lv)² / 400] + 30) / 4

STR

([5(Lv)] + [(Lv) / 5] - [(Lv)² / 260] + 21) / 4

MAG

([3.7(Lv)] + [(Lv) / 4] - [(Lv)² / 400] + 30) / 4

6
8
18
17
VIT

((Lv) / 30) - [(Lv) / 3] + (Lv) + 30

SPR

((Lv) / 30) - [(Lv) / 2] + (Lv) + 44

VIT

((Lv) / 30) - [(Lv) / 3] + (Lv) + 30

SPR

((Lv) / 30) - [(Lv) / 2] + (Lv) + 44

31
45
37
49
SPD

((Lv) / 7) - [(Lv) / 14] + 6

EVA

((Lv) / 6) - [(Lv) / 12] + 2

SPD

((Lv) / 7) - [(Lv) / 14] + 6

EVA

((Lv) / 6) - [(Lv) / 12] + 2

6
2
7
3
EXP

0

AP
EXP

0

AP
0
4
0
4
| Lv | HP | STR | MAG | VIT | SPR | SPD | EVA | EXP |
| --- | --- | --- | --- | --- | --- | --- | --- | --- |
| 1 | 467 | 6 | 8 | 31 | 45 | 6 | 2 | 0 |
| 2 | 487 | 7 | 9 | 32 | 45 | 6 | 2 | 0 |
| 3 | 508 | 9 | 10 | 32 | 46 | 6 | 2 | 0 |
| 4 | 531 | 10 | 11 | 33 | 46 | 6 | 2 | 0 |
| 5 | 556 | 11 | 12 | 34 | 47 | 6 | 2 | 0 |
| 6 | 582 | 13 | 13 | 34 | 47 | 6 | 3 | 0 |
| 7 | 610 | 14 | 14 | 35 | 48 | 7 | 3 | 0 |
| 8 | 640 | 15 | 15 | 36 | 48 | 7 | 3 | 0 |
| 9 | 671 | 16 | 16 | 36 | 49 | 7 | 3 | 0 |
| 10 | 705 | 18 | 17 | 37 | 49 | 7 | 3 | 0 |
Biggs
ビッグス (

Biggusu

?)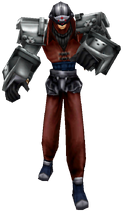 Statistics
Level
HP

0.85(Lv)² + 17(Lv) + 1450

Level
HP

0.85(Lv)² + 17(Lv) + 1450

1
1,467
19
2,079
STR

([6.5(Lv)] + [(Lv) / 5] - [(Lv)² / 260] + 21) / 4

MAG

([6.5(Lv)] + [(Lv) / 4] - [(Lv)² / 400] + 30) / 4

STR

([6.5(Lv)] + [(Lv) / 5] - [(Lv)² / 260] + 21) / 4

MAG

([6.5(Lv)] + [(Lv) / 4] - [(Lv)² / 400] + 30) / 4

6
9
36
39
VIT

((Lv) / 30) - [(Lv) / 3] + (Lv) + 30

SPR

((Lv) / 30) - [(Lv) / 2] + (Lv) + 44

VIT

((Lv) / 30) - [(Lv) / 3] + (Lv) + 30

SPR

((Lv) / 30) - [(Lv) / 2] + (Lv) + 44

31
45
43
54
SPD

((Lv) / 7) - [(Lv) / 14] + 6

EVA

((Lv) / 6) - [(Lv) / 12] + 2

SPD

((Lv) / 7) - [(Lv) / 14] + 6

EVA

((Lv) / 6) - [(Lv) / 12] + 2

6
2
7
4
EXP

0

AP
EXP

0

AP
0
5
0
5
Biggs
ビッグス (

Biggusu

?)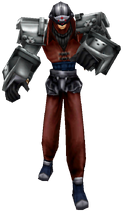 Statistics
Level
HP

0.85(Lv)² + 17(Lv) + 1450

Level
HP

0.85(Lv)² + 17(Lv) + 1450

20
2,130
22
2,235
STR

([6.5(Lv)] + [(Lv) / 5] - [(Lv)² / 260] + 21) / 4

MAG

([6.5(Lv)] + [(Lv) / 4] - [(Lv)² / 400] + 30) / 4

STR

([6.5(Lv)] + [(Lv) / 5] - [(Lv)² / 260] + 21) / 4

MAG

([6.5(Lv)] + [(Lv) / 4] - [(Lv)² / 400] + 30) / 4

38
41
41
44
VIT

((Lv) / 30) - [(Lv) / 3] + (Lv) + 30

SPR

((Lv) / 30) - [(Lv) / 2] + (Lv) + 44

VIT

((Lv) / 30) - [(Lv) / 3] + (Lv) + 30

SPR

((Lv) / 30) - [(Lv) / 2] + (Lv) + 44

44
54
45
55
SPD

((Lv) / 7) - [(Lv) / 14] + 6

EVA

((Lv) / 6) - [(Lv) / 12] + 2

SPD

((Lv) / 7) - [(Lv) / 14] + 6

EVA

((Lv) / 6) - [(Lv) / 12] + 2

7
4
8
4
EXP

0

AP
EXP

0

AP
0
5
0
5
| Lv | HP | STR | MAG | VIT | SPR | SPD | EVA | EXP |
| --- | --- | --- | --- | --- | --- | --- | --- | --- |
| 1 | 1467 | 6 | 9 | 31 | 45 | 6 | 2 | 0 |
| 2 | 1487 | 8 | 10 | 32 | 45 | 6 | 2 | 0 |
| 3 | 1508 | 10 | 12 | 32 | 46 | 6 | 2 | 0 |
| 4 | 1531 | 11 | 14 | 33 | 46 | 6 | 2 | 0 |
| 5 | 1556 | 13 | 15 | 34 | 47 | 6 | 2 | 0 |
| 6 | 1582 | 15 | 17 | 34 | 47 | 6 | 3 | 0 |
| 7 | 1610 | 16 | 19 | 35 | 48 | 7 | 3 | 0 |
| 8 | 1640 | 18 | 21 | 36 | 48 | 7 | 3 | 0 |
| 9 | 1671 | 20 | 22 | 36 | 49 | 7 | 3 | 0 |
| 10 | 1705 | 22 | 24 | 37 | 49 | 7 | 3 | 0 |
| Lv | HP | STR | MAG | VIT | SPR | SPD | EVA | EXP |
| --- | --- | --- | --- | --- | --- | --- | --- | --- |
| 11 | 1739 | 23 | 25 | 38 | 50 | 7 | 3 | 0 |
| 12 | 1776 | 25 | 27 | 38 | 50 | 7 | 3 | 0 |
| 13 | 1814 | 26 | 29 | 39 | 51 | 7 | 3 | 0 |
| 14 | 1854 | 28 | 31 | 40 | 51 | 7 | 3 | 0 |
| 15 | 1896 | 30 | 32 | 40 | 52 | 7 | 3 | 0 |
| 16 | 1939 | 32 | 34 | 41 | 52 | 7 | 3 | 0 |
| 17 | 1984 | 33 | 36 | 42 | 53 | 7 | 3 | 0 |
| 18 | 2031 | 35 | 37 | 42 | 53 | 7 | 4 | 0 |
| 19 | 2079 | 36 | 39 | 43 | 54 | 7 | 4 | 0 |
| 20 | 2130 | 38 | 41 | 44 | 54 | 7 | 4 | 0 |
| Lv | HP | STR | MAG | VIT | SPR | SPD | EVA | EXP |
| --- | --- | --- | --- | --- | --- | --- | --- | --- |
| 21 | 2181 | 40 | 42 | 44 | 55 | 8 | 4 | 0 |
| 22 | 2235 | 41 | 44 | 45 | 55 | 8 | 4 | 0 |
Biggs is a boss in Final Fantasy VIII. He is fought twice in the game, along with his subordinate, Wedge.
First encounter
Edit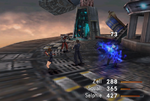 Prepare for the worst, you brats!
—Biggs
The battle begins with Biggs fighting on his own, but after some time passes, Wedge will join him. Biggs is only marginally stronger than a regular Elite Soldier and should not pose a threat. He is the first source of Esuna magic which the party can draw. Once Biggs's or Wedge's HP is depleted, Elvoret will interrupt the battle.
Second encounter
Edit
I was demoted because of you! I'm only a lieutenant now! I'll get my revenge!
—Biggs
Biggs is no more difficult than the first encounter. He can cast Haste and Regen on himself and Wedge, which both spells can be drawn from, and can cast Cure when their HP is low. This can be stopped by inflicting Silence on him. If afflicted with Confuse, Biggs and Wedge will attack one another in a humorous scene.
Related enemies
Edit