Bhunivelze (Character)
18,066 pages on
this wiki
Talk

34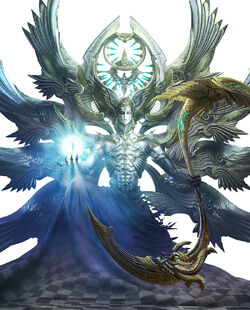 In the physical world, it contains within its form endless chaos. By the will of the deities, it gives birth to all living things. I speak of crystal. The eternal dream world of the crystal lies within the Unseen World. Even the gods long to find their way to that place. In all crystal, the heart that shines most brightly is called Bhunivelze.
—Yeul's Confessions, Final Fantasy XIII-2
Bhunivelze (ブーニベルゼ, Būniberuze?) is a god in Fabula Nova Crystallis: Final Fantasy mythos referred as the God of Light (輝ける神, Kagayakeru Kami?, lit. Shining God) or simply God, being the secret driving force behind the fal'Cie. He is alluded to in Final Fantasy XIII and Final Fantasy XIII-2, is mentioned in "Lightning's Story: Requiem of the Goddess" and appears in person in Lightning Returns: Final Fantasy XIII.
See also: Datalog/Mythology
Almighty Bhunivelze, god of light, stands above other gods and holds the world in his palm.
After creating Pulse the wild, Lindzei the wise, and Etro, the goddess of death and Chaos, Bhunivelze retreated from man's sight and slipped into a long slumber.
It was Bhunivelze who called to Lightning, forcing her to awaken from her long crystal sleep to become the savior. And he made her a promise: if she completed this great task for him, he would use his power to bring her sister, Serah, back to her.
Appearance
Edit

Bhunivelze was never seen in person before Lightning Returns: Final Fantasy XIII, and like the other gods in the Fabula Nova Crystallis mythos, was initially never given a specific form. The symbol representing him in the mythology video resembles an eye and is alluded to in the form Bhunivelze first uses to communicate with Lightning in Lightning Returns. A datalog in that game says his true form is "an inexhaustible crystal".
Bhunivelze's physical form is that of a metallic humanoid with androgynous facial features, azure eyes set against a white mask-like veneer with gold inlay, purple robes, and four pairs of angelic wings. The wings are juxtaposed by horns and an ornate crown-like adornment hovers between them. In his official render Bhunivelze has a white sclera, but in-game it is black. His name and the symbol also used by the Secutors are seen on the horns. He has a second, more demented face on the back of his head; and thus can twist his body to assume a bird-like form with the scythe configured into talon-like projections. Bhunivelze wields the Double Deity, a twin-bladed scythe with a monstrous face representing Pulse at one end and an angelic face representing Lindzei at the other.
Personality
Edit
Bow thy head and open your heart to the benediction of God's light. Drink in the light and cleanse your soul. Surrender to the radiance...Divine love eternal!
—Bhunivelze in Lightning Returns: Final Fantasy XIII
Bhunivelze is a perfectionist with no compunction over disposing of those he uses and little tolerance to humans, whom he considers unclean because of the Chaos within them. As inferred in the Fabula Nova Crystallis mythology, he fears death and hates his mother and those resembling her. Lightning Returns: Final Fantasy XIII elaborates on this, showing that he despises humanity for the darkest aspects of their souls, motivating him to purge humans of their emotions, believing it would grant them eternal bliss. He is arrogant and cruel, and despite being the most powerful deity in the Fabula Nova Crystallis mythos, able to rewrite a person's mind and purge them of emotions, Bhunivelze cannot see the hearts of people.
Abilities
Edit
Being the main deity of the Fabula Nova Crystallis universe, Bhunivelze is omnipotent. He can craft new worlds and new god-like beings, such as Etro, Lindzei and Pulse, as well as his envisioned replacement for humanity: Ereshkigal. He can empower his savior, a human being, to a point close to divinity, making her capable of collecting souls. He can use a human as his vessel and mold it to his desires. He is not omniscient though, as Lightning and Lumina's conversations are frequently beyond his reach. Though he can create sentient beings he cannot create beings with hearts, nor can he understand them, perhaps because he did not create them originally. He can create beings close to their originals in both appearance and behavior, and can capture and absorb souls. The English localizations make no distinction between people's hearts and souls, but the two are separate entities in the Japanese versions. Hearts are mankind's "essence" made from Chaos itself, and give people their individuality and act as "warehouses" for the souls.
Most know Bhunivelze as a nebulous being whose will is exacted in the world indirectly, in the actions of his creations—Pulse and Lindzei—and later by the fal'Cie Pandaemonium and the Order of Salvation in Nova Chrysalia, and near the world's end, by his chosen savior, Lightning. When Lightning finally confronts Bhunivelze face to face he can speak mainly because he has absorbed Hope Estheim and uses him as a conduit for his voice, since gods cannot usually speak. This link is destroyed in the English localization where Bhunivelze has a different voice actor from Hope.
Bhunivelze is a deadly combatant, capable of summoning Pulse and Lindzei and using them as a scythe. He can use several powerful spells with enough power to destroy worlds in the process of creation in a single blow. He can shapeshift and adopt new styles of combat ranging from magical to physical.
Bhunivelze is persistent, growing more impatient and potent when beaten in battle. Even after such an ordeal he has enough power to keep fighting and destroy several planets during his rampage, with several Eidolons barely able to keep his power at bay. Though it takes the collective power of humanity's souls to defeat him, it is unknown if that was enough to truly end Bhunivelze.
Mythology
Edit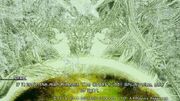 The Fabula Nova Crystallis mythology was revealed in a video shown at Square Enix 1st Production Department Premiere event on January 18, 2011. The universe of the Fabula Nova Crystallis series is divided in two: the mortal world, the realm of the living, and the unseen world, the realm of the dead. In the beginning Bhunivelze had killed his mother, Mwynn, to take full control of the mortal world for himself, and Mwynn was sent into the unseen world.

Despite achieving his goal of total control of the mortal world, Bhunivelze became troubled. He believed Mwynn had placed a curse on the realm of the living so that it would one day be destroyed and sought to destroy his mother once and for all, but was unable to reach the unseen world without giving up control of the mortal world. To find the entrance to the realm of the dead, Bhunivelze created the fal'Cie deity Pulse, tasked with searching the world for the door to the unseen world.
Bhunivelze soon created the fal'Cie deity Etro, but became distraught to discover he had unknowingly created her in the likeness of Mwynn and gave Etro no powers. To replace Etro, Bhunivelze created the fal'Cie deity Lindzei, tasked with protecting the world and Bhunivelze himself. With the fal'Cie at work Bhunivelze put himself into a deep crystal sleep to be awoken when the door to the unseen world would be found.
While never mentioned by name or referred to in dialogue, Bhunivelze's existence, role and stance are hinted at in the one of the datalog entries. The first Analect, "The Vanished Gods", alludes to how "Luminous" lamented at creation's spiral towards destruction. This term appears synonymous with both Bhunivelze's status as the "God of Light" and his view of existence.
The chaos of Valhalla consumes the mortal realm and in time transforms it into Nova Chrysalia. The "Unsolved Mysteries" section of Final Fantasy XIII-2 Ultimania Omega speculates this symbolizes Bhunivelze's awakening, represented in the rising of the new Cocoon, named after the deity. An early interview with the creators of Lightning Returns: Final Fantasy XIII confirms that Bhunivelze awoke after the creation of Nova Chrysalia.[1]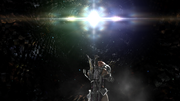 When Bhunivelze was awoken by Lindzei, he saw the world he had created had become soiled by being fused with the unseen realm, and intended to purify both the world and the humans living on it. As hinted in Final Fantasy XIII: Reminiscence -tracer of memories-, Bhunivelze orchestrated the fal'Cie Pandaemonium's building of Luxerion and Yusnaan to lure people in abandoning their man-made Cocoon. When some scientists remained behind to study Chaos they disappeared, again hinted at being Bhunivelze's doing. Bhunivelze created an illusion of Lightning to taunt Hope Estheim who eventually could no longer separate dream from reality. Though Bhunivelze had no control over the hearts of men, he could create illusions, and had the illusion of Lightning lure Hope into the now deserted man-made Cocoon where he remained.
Desiring to better comprehend and "sympathize" with humans, Bhunivelze spent the next 169 years molding Hope into a perfect "pure and innocent" host by regressing him in age to better meet his standards. Bhunivelze intended to become the "hope" for humanity through the actions of his followers within the Order of Salvation and is believed to have played a role in Vanille and Fang being released from crystal stasis, with the former ending up under the Order's "protection".
With Nova Chrysalia gradually being eroded by Chaos, Bhunivelze decided to create a new world. As Bhunivelze could not see hearts he needed someone to guide the souls to him for them to be reincarnated in his new world, as the soul resides inside a person's heart. Searching for a worthy servant to gather the surviving souls, Bhunivelze found Lightning and purged her of the heart and soul of her younger sister Serah, which Lightning had kept safe inside her own heart during her long crystal sleep. This damaged Lightning's own heart, making her appear emotionless. A part of Lightning's heart, comprised of all of her vulnerabilities and other denied feelings she had locked away since her parents died to create the new persona of "Lightning" for herself, was made manifest by Chaos and became Lumina. Unknown to Lightning, Lumina held Serah's heart within her.
Creating a heartless duplicate of Serah to keep his new servant acquiescent, Bhunivelze made Lightning the savior by offering to resurrect her sister in exchange for her servitude. Lightning would later learn Bhunivelze's ultimate goal is to save the souls of those still living while obliterating the souls of the dead so the survivors would forget them and, in the deity's eyes, live a blissful existence. The souls of the dead are "projected" into memories of the living and if the memories of the dead are erased, the pain in the hearts of the living regarding the dead is removed, making their hearts lighter. To accomplish this, Bhunivelze has his followers within the Order use Vanille to perform the Soulsong, a ritual to banish the dead to oblivion at the cost of her life.
On the world's final day, after Lightning thwarts the Soulsong ritual, Bhunivelze possesses Hope's body after absorbing the boy's heart. After taking the souls of Lightning's allies, Bhunivelze asks her to see the new world with him. When Lightning reaches him, Bhunivelze explains his wish for a blissful humanity and for Lightning to become the new goddess of death to replace the late Etro and oversee his new world's stability. When Lightning threatens to destroy him, Bhunivelze laughs and calls her into the otherworldly realm of Cosmogenesis to meet him personally. When they meet again, Bhunivelze reveals that Lightning's stopping the Soulsong and freeing the dead means he must now destroy the new world he has crafted to personally extinguish them. He then discards Hope's body as he has no current use for it.
Bhunivelze's ultimate intention differs at this point between the Japanese and English versions. In the original Japanese, Bhunivelze intends to use Hope as his vessel in the new world to rule over his ideal humanity. In the English version, Bhunivelze plans to become humanity's collective soul, residing within their hearts. When Lightning declares her intent to kill him, Bhunivelze combines the summoned Pulse and Lindzei into a weapon to put Lightning in her place in what he sees as a final test of her worth as his goddess of death. Upon finding himself severely wounded after the battle, and enraged of hearing he will have no place in the new world he had created, Bhunivelze decides to kill Lightning. When Bhunivelze absorbed Hope's heart he gained access to emotions, which he is now feeling for the first time making him vulnerable.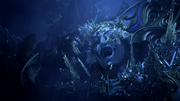 Lightning sends them plummeting into the Chaos with the intent of sacrificing herself to seal Bhunivelze in the new unseen realm by exploiting the weakness he had created in himself by directly absorbing Hope's heart: the stab by her survival knife, releasing Hope. After Lightning breaks free from her personal chains and unites with Hope, the two launch an assault on Bhunivelze. He unleashes his power but Lightning's call for aid is answered by her allies and the Eidolons. Lightning's united force of allies breaks Bhunivelze's hold on the souls of humanity, and Lightning utilizes the souls to inflict a final blow upon the deity. Bhunivelze's crystallized remains are consumed in Nova Chrysalia's destruction. Though she ponders if Bhunivelze did not die but simply fell back into rest, Lightning is confident that humanity will defeat the deity again should he ever return.

Main article: Bhunivelze (Boss)
Bhunivelze is fought as the final boss of Lightning Returns: Final Fantasy XIII. During the battle's second phase he changes form to a birdlike shape. For the following phases, he reverts to his usual appearance.
Players who defeat Bhunivelze may gain access to his weapon, named the Double Deity, for subsequent playthroughs, but this is not a guaranteed drop. Along with the standard battle, there is a version of the boss called Bhunivelze+ fought in Hard Mode.
During the fight, Bhunivelze uses several attacks that allude to other Final Fantasy villains. He uses Almagest in reference to Exdeath, Wings of Destruction (Havoc Wing) and Dancing Mad in reference to Kefka Palazzo, Heartless Angel and Hypernova as an allusion to Sephiroth.
Creation and Development
Edit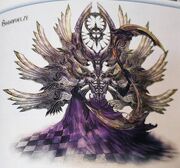 Bhunivelze was designed by Toshitaka Matsuda who made him elaborate and detailed as a representation of both Nova Chrysalia and the entire universe, shown to be literally a part of the arena where Lightning faces him during the final battle.[2]
The dialogue in the Japanese and English versions of Lightning Returns: Final Fantasy XIII portray Bhunivelze in varying ways, the Japanese dialogue having him make suggestive comments when referring to Lightning becoming the new goddess of death. In the English version, the suggestive elements are removed and he is portrayed in a way more akin to Western deities in fiction and popular culture. An example is found during the pre-battle cutscene: the line "Consider my love an honor" is altered to "Rejoice in the light of God's love", while the line during Bhunivelze's second transformation, "As the goddess, you will grant my deepest desire", is changed to "You have proven yourself, but the real battle is merely beginning".
While voiced by Yūki Kaji in the Japanese version (who also provides the voice for Hope Estheim), Bhunivelze is voiced in the English version by Daniel Riordan. Bhunivelze's Japanese voice actor also voices Ace from Final Fantasy Type-0.

Musical Themes
Edit
"Divine Love" is the eighth track on the fourth disc of the game's soundtrack and plays during the first, second, and third phases of the battle against Bhunivelze. "Almighty Bhunivelze" is the ninth track on the fourth disc of the game's soundtrack and plays during the fourth phase against the god and serves as the game's final boss theme.
"Divine Love" that plays during the first three phases against Bhunivelze was composed and arranged by Naoshi Mizuta.
Latin

Servator Domini
Magnus Lumen sum numenus sanctus

In precipito deacre vigor
Amor supremum et quod est deus

Sanctis sanctitis
Atrem lux fincus
Sanctis Sanctitis
Horam mi sanctus
Sis at venturis
Lux nox ciata

Dei Bhunivelze est tuum se patris
Et tua clamors in precis ost

Teste mustus mundus
Adora deus sanctum!

English

Servant of God
I am the sacred God of light

Collapse under the striking vigor
Of the almighty love of God

Holy sanctity
Mother of ending light
Holy sanctity
My sacred hour
Thou mayest be yet to come
United with light and darkness

God Bhunivelze is thy father
Let us pray to him and praise him

Witness the new world
Worship the sacredness of God!
Other Appearances
Edit

Bhunivelze appears with his official render. His card is shine-elemental.

Unlike the official art, in-game Bhunivelze's scythe is reversed, bearing the likeness of Pulse on the top with Lindzei on the bottom.
The stance of Bhunivelze is similar to concept artwork of a Ramuh fal'Cie designed for Final Fantasy XIII.
In Western culture, black and white traditionally represent the dichotomy of good versus evil, whereas in Eastern philosophies, black and white are seen as complementary, and often used to describe how contrary forces are interconnected in nature, and all natural qualities have an opposite.
Bhunivelze, along with Pulse and Lindzei, are similar to the demiurge, a being found in Gnosticism that, while not synonymous with a creator deity, does have the task of maintaining and sculpting the physical world. They also share the inability to see anything connected with the spiritual world.
Due to the similarity of Bhunivelze's two faces to the visages of Pulse and Lindzei in Lightning Returns: Final Fantasy XIII, it is possible they were molded in his image, and thus also represent the duality present in Bhunivelze.
References
Edit
↑ (2012-02-03) Lightning Returns: Final Fantasy XIII: The Complete Official Guide Collector's Edition, 345, Piggyback Interactive.

Invalid citation format.