Bestiary (Final Fantasy XII)
Talk

45
15,255 pages on
this wiki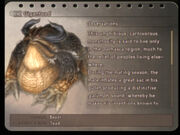 See also: Bestiary (Term) and List of Final Fantasy XII Enemies
The Bestiary is an option in the Clan Primer in Final Fantasy XII that provides the player with detailed descriptions of the enemies slain during the game. After slaying enough enemies, the player will be rewarded with additional information on several topics.
Completing the bestiary (by killing every foe once, the extra pages do not need to be unlocked) adds a sprite of Ba'Gamnan in the Sky Pirate's Den and grants the player the title Scrivener. Completing the bestiary is considered the most difficult trophy to earn.
Area Entries
Edit
This includes every regular enemy in the game. Once a certain number of an enemy has been defeated,http://finalfantasy.wikia.com/wiki/Final_Fantasy_Wiki an extra page will be unlocked in the enemy's entry giving more detailed information. 78 of these extra entries make up Sage Knowledge, background information on all of Ivalice.
Giza Plains
Edit
Garamsythe Waterway
Edit
Barheim Passage
Edit
Lhusu Mines
Edit
Yensan Sandsea
Edit
Tomb of Raithwall
Edit
Ozmone Plains
Edit
Golmore Jungle
Edit
Henne Mines
Edit
Paramina Rift
Edit
Stilshrine of Miriam
Edit
Mosphoran Highwaste
Edit
Salikawood
Edit
Phon Coast
Edit
Tchita Uplands
Edit
Sochen Cave Palace
Edit
The Feywood
Edit
Giruvegan
Edit
Ridorana Cataract
Edit
The Pharos
Edit
Zertinan Caverns
Edit
Cerobi Steppe
Edit
Nabreus Deadlands
Edit
Necrohol of Nabudis
Edit
Mark Entries
Edit
Entries on all the marks that the player has hunted, including their hunt rank.
Elite Mark Entries
Edit
Entries on all the elite marks the player has hunted, including their hunt rank. Some of these entries are references to previous Final Fantasy games.
Esper Entries
Edit
Entries on all 13 Espers, once they have been defeated. Each entry gives some backstory of the war between the gods and the Espers.
Boss Entries
Edit
These are entries on bosses the player has defeated. These entries only have one page, but whenever the player defeats a new boss, Montblanc gives the player a reward (except for Omega Mark XII).
Rare Game Entries
Edit
A list of all 80 rare monsters, including their number.
Humanoid Entries
Edit
These are entries on humanoid enemies the player has defeated. Only enemies will count; killing one that is classed as an ally will not. Of those classed as enemies, some are docile so the player must initiate combat.
Archadian Empire Entries
Edit
These are entries on members of the Archadian Empire's military that the player has defeated. In practice, this entire section will be completed naturally by the time the player has finished with the Sun-Cryst at the top of the Pharos at Ridorana.