Ad blocker interference detected!
Wikia is a free-to-use site that makes money from advertising. We have a modified experience for viewers using ad blockers

Wikia is not accessible if you've made further modifications. Remove the custom ad blocker rule(s) and the page will load as expected.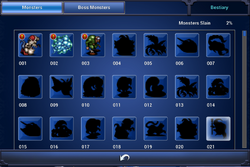 The game's Bestiary can be accessed in the game's Config menu.
GBA Bestiary
Edit
For an alphabetical listing of the entries and their corresponding pages on this wiki, see here.
There are 384 Monsters in total. The following sections list the entries numerically as they are in the game's official Bestiary. Bosses are marked with a ☆.
Enemies 101 - 125

Edit

Enemies 126 - 150

Edit

Enemies 151 - 175

Edit

Enemies 176 - 200

Edit
Enemies 201 - 225

Edit

Enemies 226 - 250

Edit

Enemies 251 - 275

Edit

Enemies 276 - 300

Edit
Enemies 301 - 325

Edit

Enemies 326 - 350

Edit

Enemies 351 - 375

Edit

Enemies 376 - 384

Edit
Unlisted Monsters
Edit
Dummied Monsters
Edit
iOS/Android/PC Bestiary
Edit
Monsters 1 - 25

Edit

Monsters 26 - 50

Edit

Monsters 51 - 75

Edit

Monsters 76 - 100

Edit
Monsters 101 - 125

Edit

Monsters 126 - 150

Edit

Monsters 151 - 175

Edit

Monsters 176 - 200

Edit
Monsters 201 - 225

Edit

Monsters 226 - 250

Edit

Monsters 251 - 275

Edit

Monsters 276 - 282

Edit
Boss Monsters 1 - 25

Edit

Boss Monsters 26 - 50

Edit

Boss Monsters 51 - 75

Edit

Boss Monsters 76 - 100

Edit
Boss Monsters 101 - 102

Edit

Unlisted Monsters

Edit

Dummied Monsters

Edit