Berth (港町バース, Minatochō Bāsu?) is a seaside town in Final Fantasy Dimensions. It's located to the south of Mt. Wells.
The Warriors of Light come here on a battleship. While asking people here about Burtgang, they come across a Drunkard who walks away after hearing Sarah's name. She tells everyone that the Drunkyard is actually a survived man from Burtgang. A man tell them that he lives on Mt. Wells so they go after him.
Return from Mt. Well, the Warriors ask the Inn owner about Gawain. He tells them that the drunkard had stayed there but he left early. Sarah felts tired so the team spend a night inside the Inn.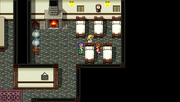 In the morning, Sarah disappears. Sol, who eavesdropped the conversation between Sarah and Gawain, tells them that Sarah is probably heading to
Burtgang
. They find
Dr, Lugae
, who is stil docking nearby, and ask him to take them to
Burtgang
with his ship.
The Inn charges 300 Gil per stay.
Ad blocker interference detected!
Wikia is a free-to-use site that makes money from advertising. We have a modified experience for viewers using ad blockers

Wikia is not accessible if you've made further modifications. Remove the custom ad blocker rule(s) and the page will load as expected.