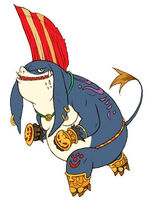 These seeq warriors rely on their instincts, attacking with savage blows.
—Description
Berserker is a job in Final Fantasy Tactics A2: Grimoire of the Rift available to the seeq. It focuses on dealing massive damage and smashing the opponent's armor, allowing for even more damage to be dealt. Despite the job's name its only Berserk-inducing ability is Critical: Berserk.
| Weapons | Head | Body | Equip Shields? |
| --- | --- | --- | --- |
| Knuckles | Hats | Light Armor | No |
Move
Jump
Evasion
Unarmed
Attack Raise
Resilience
HP
MP
Atk
Def
Mgk
Res
Spd
4
2
0
18
35
A
H
C
F
F
F
48%
Abilities
Edit
These ferocious attacks of the BERSERKER defy the conventions of battle and belief.
Other appearances
Edit
Berserker appears with an Earth-elemental card.

Etymology
Edit
[view · edit · purge]Berserker was originally a term for Norse warriors who fought with uncontrollable rage and reckless disregard for their own lives. The term itself is typically translated as "bear's skin" in reference to the animal skins Vikings would wear into battle. Theories about what causes berserkergang, the fury Berserkers go into, include possession by an animal spirit, drunken rage, and ritualistic dancing. Berserkers are often depicted in art as men with crazed eyes biting their shields in anticipation of battle.
Ad blocker interference detected!
Wikia is a free-to-use site that makes money from advertising. We have a modified experience for viewers using ad blockers

Wikia is not accessible if you've made further modifications. Remove the custom ad blocker rule(s) and the page will load as expected.