Ad blocker interference detected!
Wikia is a free-to-use site that makes money from advertising. We have a modified experience for viewers using ad blockers

Wikia is not accessible if you've made further modifications. Remove the custom ad blocker rule(s) and the page will load as expected.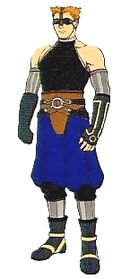 I helped you only to make up for kidnapping your Summoner.
Berrik is the team captain and midfielder of the Al Bhed Psyches. Like his Psyches teammates, Berrik is one of the strongest players in the early to mid stages of Blitzball, with strong, well-balanced stats all around. However, later on, his growth is somewhat stunted, and he is only an average player compared to other options. Regardless, he is a great addition for players starting out in Blitzball.
Blitzball Stats
Edit
Location
Airship, Corridor
Key Techniques
Venom Tackle
Wither Tackle 2
Elite Defense
| LV | 3 | 5 | 10 | 15 | 20 | 25 | 30 | 35 | 40 | 45 | 50 | 60 | 70 | 80 | 90 | 99 |
| --- | --- | --- | --- | --- | --- | --- | --- | --- | --- | --- | --- | --- | --- | --- | --- | --- |
| HP | 205 | 275 | 473 | 701 | 962 | 1,253 | 1,577 | 1,931 | 2,318 | 2,735 | 3,185 | 4,178 | 5,297 | 6,542 | 7,913 | 9,254 |
| SP | 60 | 60 | 60 | 60 | 60 | 60 | 60 | 60 | 60 | 60 | 60 | 60 | 60 | 60 | 60 | 60 |
| EN | 8 | 9 | 12 | 15 | 18 | 21 | 24 | 26 | 29 | 31 | 34 | 39 | 44 | 48 | 52 | 56 |
| AT | 10 | 11 | 14 | 16 | 19 | 21 | 23 | 25 | 27 | 29 | 31 | 34 | 37 | 40 | 42 | 43 |
| PA | 12 | 14 | 18 | 22 | 26 | 30 | 34 | 37 | 41 | 44 | 47 | 53 | 58 | 62 | 66 | 69 |
| BL | 11 | 12 | 15 | 18 | 21 | 23 | 25 | 28 | 30 | 32 | 34 | 38 | 41 | 44 | 46 | 48 |
| SH | 4 | 5 | 7 | 8 | 10 | 11 | 13 | 14 | 16 | 17 | 19 | 22 | 25 | 28 | 31 | 33 |
| CA | 1 | 2 | 3 | 4 | 5 | 6 | 7 | 8 | 9 | 10 | 11 | 13 | 15 | 17 | 19 | 20 |
Techniques
Edit
Starting Techniques: Nap Pass, Nap Tackle, Spin Ball
Normal Techniques: Venom Tackle, Venom Tackle 2, Wither Tackle, Drain Tackle, Tackle Slip, Anti-Drain, Anti-Drain 2, Elite Defense, Brawler, Regen, Golden Arm
Level 1 Techniques: Nap Shot, Venom Pass, Nap Pass 2, Wither Pass, Volley Shot, Volley Shot 2, Wither Tackle 2, Pile Venom, Pile Wither, Hi-Risk
Level 2 Techniques: Sphere Shot, Venom Pass 2, Volley Shot 3, Drain Tackle 2, Anti-Nap
Level 3 Techniques: Venom Pass 3, Anti-Wither