Ad blocker interference detected!
Wikia is a free-to-use site that makes money from advertising. We have a modified experience for viewers using ad blockers

Wikia is not accessible if you've made further modifications. Remove the custom ad blocker rule(s) and the page will load as expected.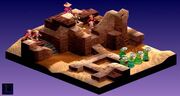 A wild desert covering much of western Limberry. The tombs of ancient emperors are buried in the sand.
—Description
For the Errand that takes place here, see Errands#Beddha Sandwaste.
The Beddha Sandwaste (ベッド砂漠, Beddo-sabaku?), also known as Bed Desert, is a location in Final Fantasy Tactics. It is a wild desert covering much of western Limberry, located north of the Order of the Southern Sky fortress of Fort Besselat, and the tombs of ancient emperors can be seen buried in the sand. The Sandwaste is the site of Ramza Beoulve's first battle with Barich Fendsor. Barich unleashes Mossfungus poison on Ramza and his team, but they fight back, killing Barich, though the Machinist then makes a pact with the Lucavi for another life.
Battle information
Edit
Beddha Sandwaste
Edit
Beddha Sandwaste

Units


Additional info
All party units begin the battle with the Poison status effect.
Conditions
Defeat Barich
Weather
Clear day
Enemy level
Average: 33
Recommended level
34 - 36
Team capacity
4 + Ramza
Number of teams
1
Battle Trophies
5000 gil
Hidden items



(3,7): Hi-Potion/Yagyu Darkrood
(4,3): Hi-Potion/Yagyu Darkrood
(8,3): Hi-Potion/Yagyu Darkrood
(8,8): Hi-Potion/Yagyu Darkrood
Glacial Gun (steal from Barich)

Terrain
Flagstone, Brick, Wooden Floor, Stairs, Sand
Geomancy
Contortion, Wind Slash, Will-o'-the-Wisp, Sandstorm
Random Battle at Beddha Sandwaste

Possible enemies




*Sometimes appears as a Guest Ally.

Terrain
Flagstone, Brick, Wooden Floor, Stairs, Sand
Geomancy
Contortion, Wind Slash, Will-o'-the-Wisp, Sandstorm
Hidden items



(3,7): Hi-Potion/Yagyu Darkrood
(4,3): Hi-Potion/Yagyu Darkrood
(8,3): Hi-Potion/Yagyu Darkrood
(8,8): Hi-Potion/Yagyu Darkrood
Glacial Gun (steal from Barich)