Relm:

I couldn't miss the chance to practice my drawing!

This article is in need of a few pictures. Perhaps you can help by uploading a picture.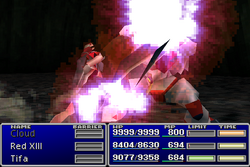 Beat Rush (掌打ラッシュ, Shōda Rasshu?) is a recurring ability in the Final Fantasy series. It is one of Tifa Lockhart's signature attacks, and is a swift series of powerful punches.
Appearances
Edit
VII Beat Rush is Tifa's initial Limit, and deals 1.25 normal damage. Performing Beat Rush nine times, teaches Tifa Somersault.
Dissidia012 Beat Rush is one of Tifa's Bravery attacks, known by her initially. It knocks the opponent back through the air, beginning a Chase Sequence. It costs 80 AP to master, 30 CP to equip, and has Melee Low Damage Priority.
FFAB Beat Rush appears as an ability.
ATB Beat Rush is the ability that is used by Tifa during battle.
Non-Final Fantasy guest appearances Edit
Beat Rush is an ability used by Tifa. This technique can be done by being in front of the opponent and holding the Down button.