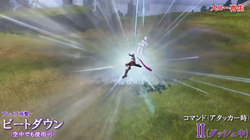 Beat Down (ビートダウン, Bītodaun?) is a recurring ability in Final Fantasy series associated with Lightning. The user thrusts her weapon at the enemy; in Dissidia Final Fantasy NT she spins before striking her opponent.
Appearances
Edit
LR Beat Down is a physical ability.
DissidiaNT Beat Down is a dash ability used by Lightning.
FFRK Beat Down is an enemy ability used by Lightning.