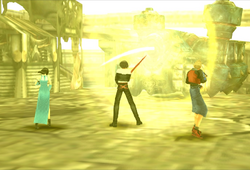 Beam Cannon (ビームキャノン, Bīmu Kyanon?) is a recurring enemy ability in the series.
Appearances
Edit
VII Beam Cannon is an enemy ability used by Proud Clod, which inflicts non-elemental magic damage to the party at the cost of 32 MP.
VIII Beam Cannon is an enemy ability used in both battles with BGH251F2, which deals heavy non-elemental damage that ignores Shell to one party member. It is used every 4th turn BGH251F2 takes.

This article or section is a stub about an ability in Final Fantasy Record Keeper. You can help the Final Fantasy Wiki by expanding it.
Ad blocker interference detected!
Wikia is a free-to-use site that makes money from advertising. We have a modified experience for viewers using ad blockers

Wikia is not accessible if you've made further modifications. Remove the custom ad blocker rule(s) and the page will load as expected.