Ad blocker interference detected!
Wikia is a free-to-use site that makes money from advertising. We have a modified experience for viewers using ad blockers

Wikia is not accessible if you've made further modifications. Remove the custom ad blocker rule(s) and the page will load as expected.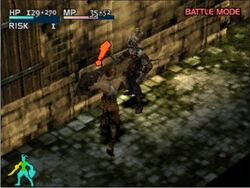 Battle Abilities are a major part of the battle mechanics in Vagrant Story and are assigned to the

,

and

buttons. Whenever Ashley attacks an enemy or vice versa, an exclamation point appears above his head. If a Battle Ability is activated just as the exclamation point appears, Ashley will use a Chain Ability if attacking or a Defense Ability if defending. Successive uses of Battle Abilities will drive Ashley's Risk status up, increasing the chance of Critical Hits at the cost of accuracy.

List of Battle Abilities
Edit
Chain Abilities
Edit
| Ability | Description | Risk |
| --- | --- | --- |
| Heavy Shot | Inflicts an amount of additional damage equal to 70% of damage dealt. | 1 |
| Gain Life | Regenerates an amount of Ashley's HP equal to 30% of damage dealt. | 2 |
| Mind Assault | Reduces foe's MP by an amount equal to 30% of damage dealt. | 1 |
| Gain Magic | Regenerates an amount of Ashley's MP equal to 30% of damage dealt. | 2 |
| Raging Ache | Inflicts an amount of additional damage equal to 10% of the damage Ashley has sustained. | 1 |
| Mind Ache | Reduces foe's MP by an amount equal to 20% of the MP Ashley has used. | 1 |
| Temper | Inflicts an additional 40% of damage on foe and repairs a small amount of weapon DP. | 2 |
| Crimson Pain | Inflicts an additional 100% of damage on foe and deals 30% of base damage to Ashley. | 2 |
| Instill | Inflicts additional damage equal to 10% of damage dealt and adds that amount to PP. | 1 |
| Phantom Pain | Inflicts additional damage equal to the total accumulated Phantom Points in Ashley's weapon. | 3 |
| Paralysis Pulse | Adds Paralysis to attack. | 3 |
| Numbing Claw | Adds Numbness to attack. | 3 |
| Dulling Impact | Adds Silence to attack. | 3 |
| Snake Venom | Adds Poison to attack. | 3 |
Defense Abilities
Edit
| Ability | Description | Risk |
| --- | --- | --- |
| Ward | Successful use of this Ability prevents Paralysis and Numbness. | 1 |
| Siphon Soul | Adds 50% of the MP used in foe's magical attack to Ashley's MP. Effective vs. magical attacks. | 6 |
| Reflect Magic | Reflects 40% of damage. Does not reduce damage received. Effective vs. magical attacks. | 2 |
| Reflect Damage | Reflects 40% of damage. Does not reduce damage received. Effective vs. non-magical attacks. | 2 |
| Absorb Magic | Reduces damage received by 20%. Effective vs. magical attacks. | 4 |
| Absorb Damage | Reduces damage received by 20%. Effective vs. non-magical attacks. | 4 |
| Impact Guard | Reduces physical damage by 50%. | 4 |
| Windbreak | Reduces air-affinity damage by 50%. | 4 |
| Fireproof | Reduces fire-affinity damage by 50%. | 4 |
| Terra Guard | Reduces earth-affinity damage by 50%. | 4 |
| Aqua Guard | Reduces water-affinity damage by 50%. | 4 |
| Shadow Guard | Reduces light-affinity damage by 50%. | 4 |
| Demonscale | Reduces dark-affinity damage by 50%. | 4 |
| Phantom Shield | Uses the accumulated Phantom Points in Ashley's shield to counter an equal amount of damage. | 6 |