Base Soldier
コマンド兵 (

Komando-hei

?)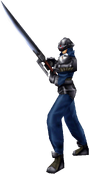 Statistics
Level
HP

0.85(Lv)² + 17(Lv) + 200

Level
HP

0.85(Lv)² + 17(Lv) + 200

1
217
19
829
STR

([4.5(Lv)] + [(Lv) / 5] - [(Lv)² / 260] + 27) / 4

MAG

([4(Lv)] + [(Lv) / 5] - [(Lv)² / 400] + 12) / 4

STR

([4.5(Lv)] + [(Lv) / 5] - [(Lv)² / 260] + 27) / 4

MAG

([4(Lv)] + [(Lv) / 5] - [(Lv)² / 400] + 12) / 4

7
4
28
22
VIT

((Lv) / 30) - [(Lv) / 3] + (Lv) + 22

SPR

((Lv) / 30) - (Lv) + (Lv) + 32

VIT

((Lv) / 30) - [(Lv) / 3] + (Lv) + 22

SPR

((Lv) / 30) - (Lv) + (Lv) + 32

23
32
35
32
SPD

((Lv) / 7) - [(Lv) / 14] + 4

EVA

((Lv) / 6) - [(Lv) / 12]

SPD

((Lv) / 7) - [(Lv) / 14] + 4

EVA

((Lv) / 6) - [(Lv) / 12]

4
0
5
2
EXP

5(Lv)² + 25

AP
EXP

5(Lv)² + 25

AP
30
1
120
1
Base Soldier
コマンド兵 (

Komando-hei

?)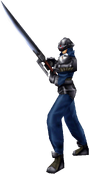 Statistics
Level
HP

0.85(Lv)² + 17(Lv) + 200

Level
HP

0.85(Lv)² + 17(Lv) + 200

20
880
29
1,407
STR

([4.5(Lv)] + [(Lv) / 5] - [(Lv)² / 260] + 27) / 4

MAG

([4(Lv)] + [(Lv) / 5] - [(Lv)² / 400] + 12) / 4

STR

([4.5(Lv)] + [(Lv) / 5] - [(Lv)² / 260] + 27) / 4

MAG

([4(Lv)] + [(Lv) / 5] - [(Lv)² / 400] + 12) / 4

30
23
39
32
VIT

((Lv) / 30) - [(Lv) / 3] + (Lv) + 22

SPR

((Lv) / 30) - (Lv) + (Lv) + 32

VIT

((Lv) / 30) - [(Lv) / 3] + (Lv) + 22

SPR

((Lv) / 30) - (Lv) + (Lv) + 32

36
32
42
32
SPD

((Lv) / 7) - [(Lv) / 14] + 4

EVA

((Lv) / 6) - [(Lv) / 12]

SPD

((Lv) / 7) - [(Lv) / 14] + 4

EVA

((Lv) / 6) - [(Lv) / 12]

5
2
6
2
EXP

5(Lv)² + 25

AP
EXP

5(Lv)² + 25

AP
125
1
170
1
Base Soldier
コマンド兵 (

Komando-hei

?)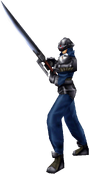 Statistics
Level
HP

0.85(Lv)² + 17(Lv) + 200

Level
HP

0.85(Lv)² + 17(Lv) + 200

30
1,475
100
10,400
STR

([4.5(Lv)] + [(Lv) / 5] - [(Lv)² / 260] + 27) / 4

MAG

([4(Lv)] + [(Lv) / 5] - [(Lv)² / 400] + 12) / 4

STR

([4.5(Lv)] + [(Lv) / 5] - [(Lv)² / 260] + 27) / 4

MAG

([4(Lv)] + [(Lv) / 5] - [(Lv)² / 400] + 12) / 4

41
34
114
101
VIT

((Lv) / 30) - [(Lv) / 3] + (Lv) + 22

SPR

((Lv) / 30) - (Lv) + (Lv) + 32

VIT

((Lv) / 30) - [(Lv) / 3] + (Lv) + 22

SPR

((Lv) / 30) - (Lv) + (Lv) + 32

43
33
92
35
SPD

((Lv) / 7) - [(Lv) / 14] + 4

EVA

((Lv) / 6) - [(Lv) / 12]

SPD

((Lv) / 7) - [(Lv) / 14] + 4

EVA

((Lv) / 6) - [(Lv) / 12]

6
3
11
8
EXP

5(Lv)² + 25

AP
EXP

5(Lv)² + 25

AP
175
1
525
1
| Lv | HP | STR | MAG | VIT | SPR | SPD | EVA | EXP |
| --- | --- | --- | --- | --- | --- | --- | --- | --- |
| 1 | 217 | 7 | 4 | 23 | 32 | 4 | 0 | 30 |
| 2 | 237 | 9 | 5 | 24 | 32 | 4 | 0 | 35 |
| 3 | 258 | 10 | 6 | 24 | 32 | 4 | 0 | 40 |
| 4 | 281 | 11 | 7 | 25 | 32 | 4 | 0 | 45 |
| 5 | 306 | 12 | 8 | 26 | 32 | 4 | 0 | 50 |
| 6 | 332 | 13 | 9 | 26 | 32 | 4 | 1 | 55 |
| 7 | 360 | 14 | 10 | 27 | 32 | 5 | 1 | 60 |
| 8 | 390 | 16 | 11 | 28 | 32 | 5 | 1 | 65 |
| 9 | 421 | 17 | 12 | 28 | 32 | 5 | 1 | 70 |
| 10 | 455 | 18 | 13 | 29 | 32 | 5 | 1 | 75 |
| Lv | HP | STR | MAG | VIT | SPR | SPD | EVA | EXP |
| --- | --- | --- | --- | --- | --- | --- | --- | --- |
| 11 | 489 | 19 | 14 | 30 | 32 | 5 | 1 | 80 |
| 12 | 526 | 20 | 15 | 30 | 32 | 5 | 1 | 85 |
| 13 | 564 | 21 | 16 | 31 | 32 | 5 | 1 | 90 |
| 14 | 604 | 23 | 17 | 32 | 32 | 5 | 1 | 95 |
| 15 | 646 | 24 | 18 | 32 | 32 | 5 | 1 | 100 |
| 16 | 689 | 25 | 19 | 33 | 32 | 5 | 1 | 105 |
| 17 | 734 | 26 | 20 | 34 | 32 | 5 | 1 | 110 |
| 18 | 781 | 27 | 21 | 34 | 32 | 5 | 2 | 115 |
| 19 | 829 | 28 | 22 | 35 | 32 | 5 | 2 | 120 |
| 20 | 880 | 30 | 23 | 36 | 32 | 5 | 2 | 125 |
| Lv | HP | STR | MAG | VIT | SPR | SPD | EVA | EXP |
| --- | --- | --- | --- | --- | --- | --- | --- | --- |
| 21 | 931 | 31 | 24 | 36 | 32 | 6 | 2 | 130 |
| 22 | 985 | 32 | 25 | 37 | 32 | 6 | 2 | 135 |
| 23 | 1040 | 33 | 26 | 38 | 32 | 6 | 2 | 140 |
| 24 | 1097 | 34 | 27 | 38 | 32 | 6 | 2 | 145 |
| 25 | 1156 | 35 | 29 | 39 | 32 | 6 | 2 | 150 |
| 26 | 1216 | 36 | 30 | 40 | 32 | 6 | 2 | 155 |
| 27 | 1278 | 37 | 31 | 40 | 32 | 6 | 2 | 160 |
| 28 | 1342 | 38 | 32 | 41 | 32 | 6 | 2 | 165 |
| 29 | 1407 | 39 | 32 | 42 | 32 | 6 | 2 | 170 |
| 30 | 1475 | 41 | 34 | 43 | 33 | 6 | 3 | 175 |
| Lv | HP | STR | MAG | VIT | SPR | SPD | EVA | EXP |
| --- | --- | --- | --- | --- | --- | --- | --- | --- |
| 31 | 1543 | 42 | 35 | 44 | 33 | 6 | 3 | 180 |
| 32 | 1614 | 43 | 36 | 45 | 33 | 6 | 3 | 185 |
| 33 | 1686 | 44 | 37 | 45 | 33 | 6 | 3 | 190 |
| 34 | 1760 | 45 | 38 | 46 | 33 | 6 | 3 | 195 |
| 35 | 1836 | 46 | 39 | 47 | 33 | 7 | 3 | 200 |
| 36 | 1913 | 48 | 40 | 47 | 33 | 7 | 3 | 205 |
| 37 | 1992 | 48 | 41 | 48 | 33 | 7 | 3 | 210 |
| 38 | 2073 | 50 | 42 | 49 | 33 | 7 | 3 | 215 |
| 39 | 2155 | 51 | 43 | 49 | 33 | 7 | 3 | 220 |
| 40 | 2240 | 52 | 44 | 50 | 33 | 7 | 3 | 225 |
| Lv | HP | STR | MAG | VIT | SPR | SPD | EVA | EXP |
| --- | --- | --- | --- | --- | --- | --- | --- | --- |
| 41 | 2325 | 53 | 45 | 51 | 33 | 7 | 3 | 230 |
| 42 | 2413 | 54 | 46 | 51 | 33 | 7 | 4 | 235 |
| 43 | 2502 | 55 | 47 | 52 | 33 | 7 | 4 | 240 |
| 44 | 2593 | 56 | 48 | 53 | 33 | 7 | 4 | 245 |
| 45 | 2686 | 57 | 49 | 53 | 33 | 7 | 4 | 250 |
| 46 | 2780 | 58 | 50 | 54 | 33 | 7 | 4 | 255 |
| 47 | 2876 | 59 | 51 | 55 | 33 | 7 | 4 | 260 |
| 48 | 2974 | 61 | 52 | 55 | 33 | 7 | 4 | 265 |
| 49 | 3073 | 61 | 52 | 56 | 33 | 8 | 4 | 270 |
| 50 | 3175 | 63 | 54 | 57 | 33 | 8 | 4 | 275 |
| Lv | HP | STR | MAG | VIT | SPR | SPD | EVA | EXP |
| --- | --- | --- | --- | --- | --- | --- | --- | --- |
| 51 | 3277 | 64 | 55 | 57 | 33 | 8 | 4 | 280 |
| 52 | 3382 | 65 | 56 | 58 | 33 | 8 | 4 | 285 |
| 53 | 3488 | 66 | 56 | 59 | 33 | 8 | 4 | 290 |
| 54 | 3596 | 67 | 57 | 59 | 33 | 8 | 5 | 295 |
| 55 | 3706 | 68 | 59 | 60 | 33 | 8 | 5 | 300 |
| 56 | 3817 | 69 | 60 | 61 | 33 | 8 | 5 | 305 |
| 57 | 3930 | 70 | 60 | 61 | 33 | 8 | 5 | 310 |
| 58 | 4045 | 71 | 61 | 62 | 33 | 8 | 5 | 315 |
| 59 | 4161 | 72 | 62 | 63 | 33 | 8 | 5 | 320 |
| 60 | 4280 | 74 | 63 | 64 | 34 | 8 | 5 | 325 |
| Lv | HP | STR | MAG | VIT | SPR | SPD | EVA | EXP |
| --- | --- | --- | --- | --- | --- | --- | --- | --- |
| 61 | 4399 | 74 | 64 | 65 | 34 | 8 | 5 | 330 |
| 62 | 4521 | 76 | 65 | 66 | 34 | 8 | 5 | 335 |
| 63 | 4644 | 76 | 66 | 66 | 34 | 9 | 5 | 340 |
| 64 | 4769 | 78 | 67 | 67 | 34 | 9 | 5 | 345 |
| 65 | 4896 | 79 | 68 | 68 | 34 | 9 | 5 | 350 |
| 66 | 5024 | 80 | 69 | 68 | 34 | 9 | 6 | 355 |
| 67 | 5154 | 81 | 70 | 69 | 34 | 9 | 6 | 360 |
| 68 | 5286 | 82 | 71 | 70 | 34 | 9 | 6 | 365 |
| 69 | 5419 | 83 | 72 | 70 | 34 | 9 | 6 | 370 |
| 70 | 5555 | 84 | 73 | 71 | 34 | 9 | 6 | 375 |
| Lv | HP | STR | MAG | VIT | SPR | SPD | EVA | EXP |
| --- | --- | --- | --- | --- | --- | --- | --- | --- |
| 71 | 5691 | 85 | 74 | 72 | 34 | 9 | 6 | 380 |
| 72 | 5830 | 86 | 75 | 72 | 34 | 9 | 6 | 385 |
| 73 | 5970 | 87 | 76 | 73 | 34 | 9 | 6 | 390 |
| 74 | 6112 | 88 | 77 | 74 | 34 | 9 | 6 | 395 |
| 75 | 6256 | 89 | 78 | 74 | 34 | 9 | 6 | 400 |
| 76 | 6401 | 90 | 79 | 75 | 34 | 9 | 6 | 405 |
| 77 | 6548 | 91 | 80 | 76 | 34 | 10 | 6 | 410 |
| 78 | 6697 | 92 | 81 | 76 | 34 | 10 | 7 | 415 |
| 79 | 6847 | 93 | 82 | 77 | 34 | 10 | 7 | 420 |
| 80 | 7000 | 94 | 83 | 78 | 34 | 10 | 7 | 425 |
| Lv | HP | STR | MAG | VIT | SPR | SPD | EVA | EXP |
| --- | --- | --- | --- | --- | --- | --- | --- | --- |
| 81 | 7153 | 95 | 84 | 78 | 34 | 10 | 7 | 430 |
| 82 | 7309 | 96 | 85 | 79 | 34 | 10 | 7 | 435 |
| 83 | 7466 | 97 | 85 | 80 | 34 | 10 | 7 | 440 |
| 84 | 7625 | 98 | 86 | 80 | 34 | 10 | 7 | 445 |
| 85 | 7786 | 99 | 87 | 81 | 34 | 10 | 7 | 450 |
| 86 | 7948 | 100 | 88 | 82 | 34 | 10 | 7 | 455 |
| 87 | 8112 | 101 | 89 | 82 | 34 | 10 | 7 | 460 |
| 88 | 8278 | 102 | 90 | 83 | 34 | 10 | 7 | 465 |
| 89 | 8445 | 103 | 91 | 84 | 34 | 10 | 7 | 470 |
| 90 | 8615 | 104 | 92 | 85 | 35 | 10 | 8 | 475 |
| Lv | HP | STR | MAG | VIT | SPR | SPD | EVA | EXP |
| --- | --- | --- | --- | --- | --- | --- | --- | --- |
| 91 | 8785 | 105 | 93 | 86 | 35 | 11 | 8 | 480 |
| 92 | 8958 | 106 | 94 | 87 | 35 | 11 | 8 | 485 |
| 93 | 9132 | 107 | 95 | 87 | 35 | 11 | 8 | 490 |
| 94 | 9308 | 108 | 96 | 88 | 35 | 11 | 8 | 495 |
| 95 | 9486 | 109 | 97 | 89 | 35 | 11 | 8 | 500 |
| 96 | 9665 | 110 | 98 | 89 | 35 | 11 | 8 | 505 |
| 97 | 9846 | 111 | 99 | 90 | 35 | 11 | 8 | 510 |
| 98 | 10029 | 112 | 99 | 91 | 35 | 11 | 8 | 515 |
| 99 | 10213 | 113 | 100 | 91 | 35 | 11 | 8 | 520 |
| 100 | 10400 | 114 | 101 | 92 | 35 | 11 | 8 | 525 |
Base Soldier appears as the blue G-Soldier in Final Fantasy VIII. It usually accompanies the Base Leader.
As usual, the Base Soldier uses his sword, but also uses a mid-level magic spell. It is no real threat.
Strategy
Edit
For an easy win, the party put them to sleep while drawing and casting Blizzard or Blizzara.
Related enemies
Edit
Ad blocker interference detected!
Wikia is a free-to-use site that makes money from advertising. We have a modified experience for viewers using ad blockers

Wikia is not accessible if you've made further modifications. Remove the custom ad blocker rule(s) and the page will load as expected.