Base Leader
コマンドリーダー (

Komandorīdā

?)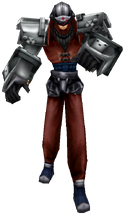 Statistics
Level
HP

0.3(Lv)² + 6(Lv) + 800

Level
HP

0.3(Lv)² + 6(Lv) + 800

1
806
19
1,022
STR

([6.5(Lv)] + [(Lv) / 5] - [(Lv)² / 260] + 21) / 4

MAG

([6.5(Lv)] + [(Lv) / 4] - [(Lv)² / 400] + 30) / 4

STR

([6.5(Lv)] + [(Lv) / 5] - [(Lv)² / 260] + 21) / 4

MAG

([6.5(Lv)] + [(Lv) / 4] - [(Lv)² / 400] + 30) / 4

6
9
36
39
VIT

((Lv) / 30) - [(Lv) / 3] + (Lv) + 30

SPR

((Lv) / 30) - [(Lv) / 2] + (Lv) + 44

VIT

((Lv) / 30) - [(Lv) / 3] + (Lv) + 30

SPR

((Lv) / 30) - [(Lv) / 2] + (Lv) + 44

31
45
43
54
SPD

((Lv) / 7) - [(Lv) / 14] + 6

EVA

((Lv) / 6) - [(Lv) / 12] + 2

SPD

((Lv) / 7) - [(Lv) / 14] + 6

EVA

((Lv) / 6) - [(Lv) / 12] + 2

6
2
7
4
EXP

5(Lv)² + 25

AP
EXP

5(Lv)² + 25

AP
30
2
120
2
Base Leader
コマンドリーダー (

Komandorīdā

?)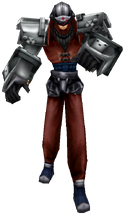 Statistics
Level
HP

0.3(Lv)² + 6(Lv) + 800

Level
HP

0.3(Lv)² + 6(Lv) + 800

20
1,040
29
1,226
STR

([6.5(Lv)] + [(Lv) / 5] - [(Lv)² / 260] + 21) / 4

MAG

([6.5(Lv)] + [(Lv) / 4] - [(Lv)² / 400] + 30) / 4

STR

([6.5(Lv)] + [(Lv) / 5] - [(Lv)² / 260] + 21) / 4

MAG

([6.5(Lv)] + [(Lv) / 4] - [(Lv)² / 400] + 30) / 4

38
41
52
55
VIT

((Lv) / 30) - [(Lv) / 3] + (Lv) + 30

SPR

((Lv) / 30) - [(Lv) / 2] + (Lv) + 44

VIT

((Lv) / 30) - [(Lv) / 3] + (Lv) + 30

SPR

((Lv) / 30) - [(Lv) / 2] + (Lv) + 44

44
54
50
59
SPD

((Lv) / 7) - [(Lv) / 14] + 6

EVA

((Lv) / 6) - [(Lv) / 12] + 2

SPD

((Lv) / 7) - [(Lv) / 14] + 6

EVA

((Lv) / 6) - [(Lv) / 12] + 2

7
4
8
4
EXP

5(Lv)² + 25

AP
EXP

5(Lv)² + 25

AP
125
2
170
2
Base Leader
コマンドリーダー (

Komandorīdā

?)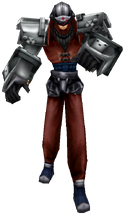 Statistics
Level
HP

0.3(Lv)² + 6(Lv) + 800

Level
HP

0.3(Lv)² + 6(Lv) + 800

30
1,250
100
4,400
STR

([6.5(Lv)] + [(Lv) / 5] - [(Lv)² / 260] + 21) / 4

MAG

([6.5(Lv)] + [(Lv) / 4] - [(Lv)² / 400] + 30) / 4

STR

([6.5(Lv)] + [(Lv) / 5] - [(Lv)² / 260] + 21) / 4

MAG

([6.5(Lv)] + [(Lv) / 4] - [(Lv)² / 400] + 30) / 4

54
57
163
170
VIT

((Lv) / 30) - [(Lv) / 3] + (Lv) + 30

SPR

((Lv) / 30) - [(Lv) / 2] + (Lv) + 44

VIT

((Lv) / 30) - [(Lv) / 3] + (Lv) + 30

SPR

((Lv) / 30) - [(Lv) / 2] + (Lv) + 44

51
60
100
97
SPD

((Lv) / 7) - [(Lv) / 14] + 6

EVA

((Lv) / 6) - [(Lv) / 12] + 2

SPD

((Lv) / 7) - [(Lv) / 14] + 6

EVA

((Lv) / 6) - [(Lv) / 12] + 2

8
5
13
10
EXP

5(Lv)² + 25

AP
EXP

5(Lv)² + 25

AP
175
2
525
2
| Lv | HP | STR | MAG | VIT | SPR | SPD | EVA | EXP |
| --- | --- | --- | --- | --- | --- | --- | --- | --- |
| 1 | 806 | 6 | 9 | 31 | 45 | 6 | 2 | 30 |
| 2 | 813 | 8 | 10 | 32 | 45 | 6 | 2 | 35 |
| 3 | 820 | 10 | 12 | 32 | 46 | 6 | 2 | 40 |
| 4 | 828 | 11 | 14 | 33 | 46 | 6 | 2 | 45 |
| 5 | 837 | 13 | 15 | 34 | 47 | 6 | 2 | 50 |
| 6 | 846 | 15 | 17 | 34 | 47 | 6 | 3 | 55 |
| 7 | 856 | 16 | 19 | 35 | 48 | 7 | 3 | 60 |
| 8 | 867 | 18 | 21 | 36 | 48 | 7 | 3 | 65 |
| 9 | 878 | 20 | 22 | 36 | 49 | 7 | 3 | 70 |
| 10 | 890 | 22 | 24 | 37 | 49 | 7 | 3 | 75 |
| Lv | HP | STR | MAG | VIT | SPR | SPD | EVA | EXP |
| --- | --- | --- | --- | --- | --- | --- | --- | --- |
| 11 | 902 | 23 | 25 | 38 | 50 | 7 | 3 | 80 |
| 12 | 915 | 25 | 27 | 38 | 50 | 7 | 3 | 85 |
| 13 | 928 | 26 | 29 | 39 | 51 | 7 | 3 | 90 |
| 14 | 942 | 28 | 31 | 40 | 51 | 7 | 3 | 95 |
| 15 | 957 | 30 | 32 | 40 | 52 | 7 | 3 | 100 |
| 16 | 972 | 32 | 34 | 41 | 52 | 7 | 3 | 105 |
| 17 | 988 | 33 | 36 | 42 | 53 | 7 | 3 | 110 |
| 18 | 1005 | 35 | 37 | 42 | 53 | 7 | 4 | 115 |
| 19 | 1022 | 36 | 39 | 43 | 54 | 7 | 4 | 120 |
| 20 | 1040 | 38 | 41 | 44 | 54 | 7 | 4 | 125 |
| Lv | HP | STR | MAG | VIT | SPR | SPD | EVA | EXP |
| --- | --- | --- | --- | --- | --- | --- | --- | --- |
| 21 | 1058 | 40 | 42 | 44 | 55 | 8 | 4 | 130 |
| 22 | 1077 | 41 | 44 | 45 | 55 | 8 | 4 | 135 |
| 23 | 1096 | 43 | 45 | 46 | 56 | 8 | 4 | 140 |
| 24 | 1116 | 44 | 47 | 46 | 56 | 8 | 4 | 145 |
| 25 | 1137 | 46 | 49 | 47 | 57 | 8 | 4 | 150 |
| 26 | 1158 | 48 | 51 | 48 | 57 | 8 | 4 | 155 |
| 27 | 1180 | 49 | 52 | 48 | 58 | 8 | 4 | 160 |
| 28 | 1203 | 51 | 54 | 49 | 58 | 8 | 4 | 165 |
| 29 | 1226 | 52 | 55 | 50 | 59 | 8 | 4 | 170 |
| 30 | 1250 | 54 | 57 | 51 | 60 | 8 | 5 | 175 |
| Lv | HP | STR | MAG | VIT | SPR | SPD | EVA | EXP |
| --- | --- | --- | --- | --- | --- | --- | --- | --- |
| 31 | 1274 | 56 | 59 | 52 | 61 | 8 | 5 | 180 |
| 32 | 1299 | 58 | 61 | 53 | 61 | 8 | 5 | 185 |
| 33 | 1324 | 59 | 62 | 53 | 62 | 8 | 5 | 190 |
| 34 | 1350 | 61 | 64 | 54 | 62 | 8 | 5 | 195 |
| 35 | 1377 | 62 | 65 | 55 | 63 | 9 | 5 | 200 |
| 36 | 1404 | 64 | 67 | 55 | 63 | 9 | 5 | 205 |
| 37 | 1432 | 65 | 69 | 56 | 64 | 9 | 5 | 210 |
| 38 | 1461 | 67 | 70 | 57 | 64 | 9 | 5 | 215 |
| 39 | 1490 | 69 | 72 | 57 | 65 | 9 | 5 | 220 |
| 40 | 1520 | 70 | 74 | 58 | 65 | 9 | 5 | 225 |
| Lv | HP | STR | MAG | VIT | SPR | SPD | EVA | EXP |
| --- | --- | --- | --- | --- | --- | --- | --- | --- |
| 41 | 1550 | 72 | 75 | 59 | 66 | 9 | 5 | 230 |
| 42 | 1581 | 74 | 77 | 59 | 66 | 9 | 6 | 235 |
| 43 | 1612 | 75 | 78 | 60 | 67 | 9 | 6 | 240 |
| 44 | 1644 | 77 | 80 | 61 | 67 | 9 | 6 | 245 |
| 45 | 1677 | 78 | 82 | 61 | 68 | 9 | 6 | 250 |
| 46 | 1710 | 80 | 83 | 62 | 68 | 9 | 6 | 255 |
| 47 | 1744 | 81 | 85 | 63 | 69 | 9 | 6 | 260 |
| 48 | 1779 | 83 | 87 | 63 | 69 | 9 | 6 | 265 |
| 49 | 1814 | 84 | 88 | 64 | 70 | 10 | 6 | 270 |
| 50 | 1850 | 86 | 90 | 65 | 70 | 10 | 6 | 275 |
| Lv | HP | STR | MAG | VIT | SPR | SPD | EVA | EXP |
| --- | --- | --- | --- | --- | --- | --- | --- | --- |
| 51 | 1886 | 88 | 91 | 65 | 71 | 10 | 6 | 280 |
| 52 | 1923 | 89 | 93 | 66 | 71 | 10 | 6 | 285 |
| 53 | 1960 | 91 | 95 | 67 | 72 | 10 | 6 | 290 |
| 54 | 1998 | 92 | 96 | 67 | 72 | 10 | 7 | 295 |
| 55 | 2037 | 94 | 98 | 68 | 73 | 10 | 7 | 300 |
| 56 | 2076 | 96 | 100 | 69 | 73 | 10 | 7 | 305 |
| 57 | 2116 | 97 | 101 | 69 | 74 | 10 | 7 | 310 |
| 58 | 2157 | 99 | 103 | 70 | 74 | 10 | 7 | 315 |
| 59 | 2198 | 100 | 104 | 71 | 75 | 10 | 7 | 320 |
| 60 | 2240 | 102 | 106 | 72 | 76 | 10 | 7 | 325 |
| Lv | HP | STR | MAG | VIT | SPR | SPD | EVA | EXP |
| --- | --- | --- | --- | --- | --- | --- | --- | --- |
| 61 | 2282 | 103 | 108 | 73 | 77 | 10 | 7 | 330 |
| 62 | 2325 | 105 | 109 | 74 | 77 | 10 | 7 | 335 |
| 63 | 2368 | 106 | 111 | 74 | 78 | 11 | 7 | 340 |
| 64 | 2412 | 108 | 113 | 75 | 78 | 11 | 7 | 345 |
| 65 | 2457 | 110 | 114 | 76 | 79 | 11 | 7 | 350 |
| 66 | 2502 | 111 | 116 | 76 | 79 | 11 | 8 | 355 |
| 67 | 2548 | 113 | 117 | 77 | 80 | 11 | 8 | 360 |
| 68 | 2595 | 114 | 119 | 78 | 80 | 11 | 8 | 365 |
| 69 | 2642 | 116 | 121 | 78 | 81 | 11 | 8 | 370 |
| 70 | 2690 | 118 | 122 | 79 | 81 | 11 | 8 | 375 |
| Lv | HP | STR | MAG | VIT | SPR | SPD | EVA | EXP |
| --- | --- | --- | --- | --- | --- | --- | --- | --- |
| 71 | 2738 | 119 | 124 | 80 | 82 | 11 | 8 | 380 |
| 72 | 2787 | 121 | 126 | 80 | 82 | 11 | 8 | 385 |
| 73 | 2836 | 122 | 127 | 81 | 83 | 11 | 8 | 390 |
| 74 | 2886 | 123 | 129 | 82 | 83 | 11 | 8 | 395 |
| 75 | 2937 | 125 | 130 | 82 | 84 | 11 | 8 | 400 |
| 76 | 2988 | 127 | 132 | 83 | 84 | 11 | 8 | 405 |
| 77 | 3040 | 128 | 133 | 84 | 85 | 12 | 8 | 410 |
| 78 | 3093 | 130 | 135 | 84 | 85 | 12 | 9 | 415 |
| 79 | 3146 | 131 | 136 | 85 | 86 | 12 | 9 | 420 |
| 80 | 3200 | 133 | 138 | 86 | 86 | 12 | 9 | 425 |
| Lv | HP | STR | MAG | VIT | SPR | SPD | EVA | EXP |
| --- | --- | --- | --- | --- | --- | --- | --- | --- |
| 81 | 3254 | 134 | 140 | 86 | 87 | 12 | 9 | 430 |
| 82 | 3309 | 136 | 141 | 87 | 87 | 12 | 9 | 435 |
| 83 | 3364 | 137 | 143 | 88 | 88 | 12 | 9 | 440 |
| 84 | 3420 | 139 | 145 | 88 | 88 | 12 | 9 | 445 |
| 85 | 3477 | 140 | 146 | 89 | 89 | 12 | 9 | 450 |
| 86 | 3534 | 142 | 148 | 90 | 89 | 12 | 9 | 455 |
| 87 | 3592 | 143 | 149 | 90 | 90 | 12 | 9 | 460 |
| 88 | 3651 | 145 | 151 | 91 | 90 | 12 | 9 | 465 |
| 89 | 3710 | 146 | 152 | 92 | 91 | 12 | 9 | 470 |
| 90 | 3770 | 148 | 154 | 93 | 92 | 12 | 10 | 475 |
| Lv | HP | STR | MAG | VIT | SPR | SPD | EVA | EXP |
| --- | --- | --- | --- | --- | --- | --- | --- | --- |
| 91 | 3830 | 149 | 155 | 94 | 93 | 13 | 10 | 480 |
| 92 | 3891 | 151 | 157 | 95 | 93 | 13 | 10 | 485 |
| 93 | 3952 | 152 | 159 | 95 | 94 | 13 | 10 | 490 |
| 94 | 4014 | 154 | 160 | 96 | 94 | 13 | 10 | 495 |
| 95 | 4077 | 155 | 162 | 97 | 95 | 13 | 10 | 500 |
| 96 | 4140 | 157 | 163 | 97 | 95 | 13 | 10 | 505 |
| 97 | 4204 | 158 | 165 | 98 | 96 | 13 | 10 | 510 |
| 98 | 4269 | 160 | 166 | 99 | 96 | 13 | 10 | 515 |
| 99 | 4334 | 161 | 168 | 99 | 97 | 13 | 10 | 520 |
| 100 | 4400 | 163 | 170 | 100 | 97 | 13 | 10 | 525 |
Base Leader appears like the red Elite Soldier in Final Fantasy VIII during the Missile Base storyline. He usually appears with the Base Soldier.
As usual, the Base Leader uses his Machine Gun equipped on his arm, and some low-level magic spells, but not very tough. These are a good source of Cura early in the game.
Related enemies
Edit
Ad blocker interference detected!
Wikia is a free-to-use site that makes money from advertising. We have a modified experience for viewers using ad blockers

Wikia is not accessible if you've made further modifications. Remove the custom ad blocker rule(s) and the page will load as expected.