Final Fantasy X-2 Enemy
Bascinet
バシネット (Bashinetto)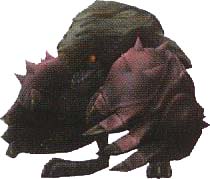 Helm
Statistics
Level
HP
MP
33
1,342
27
Strength
Magic
Defense
44
7
128
M. Defense
Agility
Accuracy
8
67
0
Evasion
Luck
0
1
EXP
AP
Gil
210
1
110
Bascinet
バシネット (Bashinetto)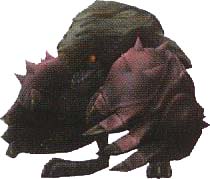 Helm
Statistics
Level
HP
MP
41
3,355
27
Strength
Magic
Defense
44
7
134
M. Defense
Agility
Accuracy
8
80
0
Evasion
Luck
0
1
EXP
AP
Gil
270
2
180
Normal: "A fiend whose tough carapace protects it from Normal Attacks but leaves it vulnerable to magic. It responds to magical attacks with Helm Counter."
Oversoul: "A fiend whose tough carapace protects it from Normal Attacks but leaves it vulnerable to magic. It sometimes performs an irritating attack that destroys Elixirs."
— Scan
The Bascinet is an enemy from Final Fantasy X-2. It is a palette swap of the Bicocette, but has a lot more HP, making it a lot more difficult. Magic works well again. The player should watch out for its counterattacks.
Fiend Tale
Edit
In the Fiend Tale endings, one notable Bascinet was a fan of Brother, first seeing him the day the Gullwings were racing Leblanc's gang. The Bascinet tries to use body gestures to win Brother's apprenticeship.
Etymology
Edit
[view · edit · purge]The bascinet was a Medieval European open-faced military helmet.
Related enemies
Edit
Ad blocker interference detected!
Wikia is a free-to-use site that makes money from advertising. We have a modified experience for viewers using ad blockers

Wikia is not accessible if you've made further modifications. Remove the custom ad blocker rule(s) and the page will load as expected.