Basch fon Ronsenburg
18,948 pages on
this wiki
Talk

66
Basch fon Ronsenburg is a playable character in Final Fantasy XII and Final Fantasy XII: Revenant Wings. A disgraced knight, Basch had his name ruined throughout Ivalice when he was prosecuted for murdering King Raminas B'nargin Dalmasca, contributing to the Kingdom of Dalmasca's downfall. His background is expanded upon in the manga version.
Appearance
Edit
Basch is a 36-year-old man with a strong, muscular-though-emaciated build, a tall frame, and blue eyes. He has long blond slicked back hair, beard and goatee. When first met his facial hair is wildly overgrown, but after joining the party it is trimmed down. Basch has a long scar across his left brow.
Basch is seen in a variety of outfits, the first being his Dalmascan Knight armor. As a prisoner he wears a pair of teal trousers and no shirt, revealing prominent scars on his shoulders and upper back. The clothing Basch wears throughout most of the game resembles a Bhujerban Sainikah. Later, he appears in an Archadian Judge Magister suit of armor.
Personality
Edit
Basch has a fierce sense of loyalty and a professional manner. He abides by a knight's code dedicating himself to restoring the country he serves. He is selfless, prioritizing others at the cost of his own reputation. Basch strives to fulfill promises and commands from his superiors, friends and family, regardless of the request or the circumstances.
Final Fantasy XIIEdit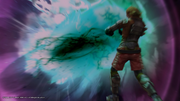 Basch has the highest HP growth of all playable characters, and he is tied with Vaan for having the highest Strength. His MP growth, Vitality and Speed are the lowest of the party, and his Magick is low as well.
Despite using both his level 1 Quickening (Fulminating Darkness) and dispatching enemies with a bow in the battle at Nalbina Fortress, Basch joins with neither of these licenses.
His default weapon, the Mythril Blade, is not available in shops so the player can never reclaim it if sold. The game ignores Basch's weapon slot in story cutscenes where he wields a weapon, always wielding the Mythril Blade: this is unique to Basch.
Basch is the only character to not speak when performing his Quickenings, only letting out various grunts and cries.
Support Character - Nalbina Fortress
Initial Data
Initial Equipment
As a guest, Basch is not equipped with anything until the player reaches the North-South Junction of Barheim Passage.
Initial Licenses
Stats
Basch's has the same set of stats as a guest and as a permanent party member.
Final Fantasy XII: Revenant WingsEdit
Basch has high physical stats and can equip Heavy Armor and wield blades and knightswords, casting him as the party's heavy hitter. He has several defensive abilities as well as powerful attacks, making him similar to a Paladin. His Quickening, Apocalypse Shield, makes his group temporarily invincible. It can be obtained by defeating the Esper Zalera.
Abilities
Edit
| Name | Level | Description | Image |
| --- | --- | --- | --- |
| Protectga | — | Increase Stamina of all allies in range. | |
| Shellga | — | Increase Magick Defense of all allies in range. | |
| Flash of Steel | 36 | Deal damage to foes in a line extending from the user. | |
| Inner Peace | 38 | Give user Regen and remove debuffs. | |
| Iron Will | 41 | Lower user's Strength to increase Stamina. | |
| Cover | 45 | Protect other group members, taking damage in their stead. | |
| Shining Ray | 51 | Deal ranged damage to multiple foes. | |
| Apocalypse Shield | — | Nullify all damage to the group. | |
Creation and development
Edit
Basch's appearance went through multiple drafts from its initial concept. Originally designed with an armor and motif seemingly inspired by Old English knights, Akihiko Yoshida scrapped this look in favor of the Bhujerban Sainikah uniform. Basch's hairstyle also changed from its original design, as did his facial hair and distinctive scar, which appear to be non-existent in early concepts.
In the English release of Final Fantasy XII, Basch is voiced by Keith Ferguson. He is voiced by Rikiya Koyama in the Japanese release.
Basch, along with Balthier and Ashe, speaks in formalized English in contrast to Vaan and Penelo's more casual style. In Japanese, Balthier, Ashe and Basch use an older, more formal form of Japanese than Vaan and Penelo.
The one point of disagreement between the translators and the original Japanese developers revolved around the translators' decision to have the actor who played Gabranth (Michael E. Rodgers) mimic the twin brother Basch's voice (voiced by Keith Ferguson) in the scene where Gabranth is impersonating his twin. In the Japanese version the two actors' voices play over one another to give the scene the quality of a dream-sequence, but the translators opted to go for the more "realistic" sound. The debate came after the recording was finished, and eventually the team sided with the translators, but there were those who chafed at what was essentially a directorial decision being made by the translation team (albeit with the blessing of the voice director).[1]

Musical themes
Edit
In Final Fantasy XII Basch's theme is titled "Basch's Reminiscence", a slow, melancholy piece reflecting his sorrow and past. It plays during the party's escape through the Barheim Passage when Basch tells the party of what really happened to King Raminas on the night Basch was charged for his murder.
Other appearances
Edit
Basch was to be the main protagonist for the cancelled Final Fantasy XII spin-off sequel game where he would have defended Ivalice and Ashe from a marine army seeking to take over the land. He would have had a small romance with her, but it would not have worked out, and the two would have drifted apart by the game's end. Basch would have been one of the only people in Ivalice to believe the legends of an old sea king who tries to invade Ivalice every 10,000 years, and would have traveled to the uncharted territories to defend a magickal fortress, the structure standing between Ivalice and the sea the marine forces would try to overtake. He would have been joined by his old allies from Final Fantasy XII, as well as Larsa and other Archadian Judges. Only his closest friends would have been aware of his true identity, most others calling him "Judge Gabranth".[2]
He would have faced challenges when defending the fortress from the sea king Loemund, allying the demigod Laegd after besting him in battle. Basch would have become torn between his self-appointed duty and his growing feelings for Ashe, who was developing feelings for Larsa. He would have come into conflict with Zargabaath after his true identity was revealed, resulting in his temporary imprisonment. In the end, when he had the chance to escape, Basch decided to stay behind and defeated Loemond at the cost of his life. The epilogue would have seen Laegd taking Basch's body to Loemond's castle, where he would have been resurrected and become the new Sea King.[3]

Though he does not appear in person, several references to Basch are made in Dissidia. Gabranth uses variations of Basch's Quickenings for his EX Burst, and Keith Ferguson, Basch's voice actor in Final Fantasy XII, voices Gabranth in place of his original actor, Michael E. Rogers. Basch is also the namesake for a Ghost Card, a Level 100 Gabranth that the player can win Orange Gems and Nethicite from through battlegen.
Gabranth gains a second alternate outfit based on his disguise when he impersonated Basch during the Battle of Nalbina Fortress, and Vaan's secret quote is "I'm Basch!".

Basch is a Legend character in Final Fantasy Airborne Brigade.
Basch is a playable character who could be initially recruited during the Challenge Event Consorting with Sky Pirates as the First Time Reward for completing the event's Draklor Laboratory stage on the Classic difficulty.
Assessment
Basch is a Former Dalmascan Captain whose combat role is Physical Defense.
In a game already rich with Knight-type characters, Basch's role is not much of a surprise. He will be a Final Fantasy XII party's first line of defense against physical enemies, and with a little luck, he can be an excellent support for said party. On his own, he is a strong attacker with a broad range of melee weapons at his disposal. Basch's Resistance, like that of many defenders, could be his downfall if not offset with a strong piece of armor.
Stats
| Level | HP | Attack | Defense | Magic | Resistance | Mind | Accuracy | Evasion | Speed |
| --- | --- | --- | --- | --- | --- | --- | --- | --- | --- |
| 1 | 234 | 12 | 10 | 7 | 8 | 7 | 20 | 20 | 74 |
| 10 | 910 | 30 | 32 | 15 | 17 | 18 | 20 | 20 | 78 |
| 20 | 1,663 | 50 | 52 | 24 | 29 | 30 | 20 | 20 | 82 |
| 30 | 2,416 | 71 | 71 | 35 | 41 | 43 | 21 | 21 | 87 |
| 40 | 3,168 | 91 | 88 | 46 | 55 | 55 | 21 | 21 | 92 |
| 50 | 3,921 | 112 | 106 | 58 | 69 | 68 | 22 | 22 | 97 |
| Rank | 4 | 5 | 4 | 1 | 1 | 1 | 3 | 3 | 1 |
Abilities
Basch can use Combat abilities up to rarity rank 5, Knight abilities up to rarity rank 5, and Samurai abilities up to rarity rank 4.
His default Soul Break is Gallantry, which at the expense of one Soul Gauge segment temporarily raises the Defense and Resistance of all allies. The shield Platinum Shield (XII) grants him Apocalypse Shield, which for one Soul Gauge segment boosts the Attack and Defense of all allies for a short time.
Upon breaking his initial level cap, Basch acquires the Record Materia Shield of Dalmasca, which allows the wielder to deal more damage when a shield is equipped. He does not currently have a Memory Crystal II nor alternate Record Materia.
Equipment
Basch can equip the following weapon types: daggers, swords, katanas, axes, hammers, spears, and fists.
He can equip the following armor types: shields, hats, helms, light armor, heavy armor, and bracers.
He can equip accessories.
Gallery
Basch appears in the Japan-exclusive Final Fantasy Trading Card Game. His cards are fire-elemental, perhaps alluding to his ultimate Quickening move, Flame Purge.
Basch has a Triple Triad card.

Non-Final Fantasy guest appearancesEdit
Itadaki StreetEdit
InDragon Quest & Final Fantasy in Itadaki Street Portable, Basch appears along with the other five main characters of Final Fantasy XII in Dragon Quest & Final Fantasy in Itadaki Street Portable. The game was released prior to Final Fantasy XII.
Other media
Edit

Users in Square Enix Members Virtual World community can make their character appear as Basch. Basch's hair costs 100 crystals and his clothes cost 480 crystals.

Etymology
Edit
[view · edit · purge]The name Basch (or Bäsch) is German from a southern short form of Sebastian. Fon is based on German word von. [view · edit · purge]Von means "from" (or "of"), and is used to denote someone is of noble descent. [view · edit · purge]Ronsenburg comes from a combination of the old German surname Ronsen meaning "son of Roland"—Roland being the archetypical paladin—and the German noun Burg meaning "castle".
Killing 500 enemies in Final Fantasy XII adds Basch's sprite to the Sky Pirate's Den, awarding the player with the title of Blood Dancer.
Basch's title within the Order of Knights of Dalmasca differs between the Japanese and English versions of Final Fantasy XII. In the Japanese version he is a general, whereas in the English versions he is a captain.
In his official render, the sword Basch wields is the Claymore.
Gabranth is the younger twin and Basch is the elder. This is made evident in the Japanese version of Final Fantasy XII but was dropped in the English localization. Gabranth's status as the younger twin is noted in his biography in Dissidia Final Fantasy.
References
Edit