Bartholomew Estheim
Talk

4
13,960 pages on
this wiki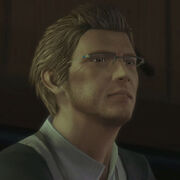 "You're my son! This is your home."
—Bartholomew to Hope
Bartholomew Estheim (バルトロメイ・エストハイム, Barutoromei Esutohaimu?) is Hope Estheim's father and the husband of Nora Estheim in Final Fantasy XIII. He lives in Palumpolum, works for the Sanctum, and does not get along with his son.
Bartholomew is 178 centimeters tall according to the Final Fantasy XIII Scenario Ultimania guide and is voiced by André Sogliuzzo in English and by Masaki Aizawa in Japanese.
Appearance and Personality
Edit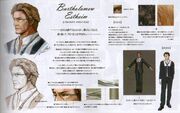 Bartholomew is a bespectacled middle-aged man in a black suit with black pants. He wears a gray tie and and his neck is white on his suit. He has brown hair and a beard.
Bartholomew is a firm but kind man who, despite his difficulties with Hope, truly loves him and wishes the best for him. Like most of the population of Cocoon, he initially believed the l'Cie to be monsters, but was quick to change his mind and realize Lightning and company are as human as himself.
He is shown to be forgiving, as when knowing Snow caused the death of his wife, he forgave him, as he still accomplished Nora's last wish, to bring Hope back home. Bartholomew is levelheaded and a true no-nonsense man.
He does not appear in Final Fantasy XIII-2, but it is hinted he is a man of politics who founded and supports the Academy.
See also: Datalog/People.
Bartholomew is Hope's father, but has difficulties relating to his teenage son.
Though deeply upset by his wife's death, he sees how much Hope has grown during the subsequent events, and encourages him to find his own path and make his own decisions.
Now wanted by the Sanctum for his actions in aiding Pulse l'Cie, Bartholomew is currently under the protection of the Cavalry.
See also: Fragment/Quiz Mastery.
Bartholomew Estheim was originally an economist for a Sanctum-affiliated institute. Following the catastrophe, the newly formed provisional government employed him as a financial advisor, where he was instrumental in the founding of the Academy.
He is the father of Hope Estheim, the director of the New Cocoon Project.
Still burdened by the memory of his mother's death and his status as a l'Cie, Hope initially does not want to reach out to his father. On their journey to Eden, Hope and Lightning go through Palumpolum, Hope's hometown, and he agrees to help her get past the PSICOM soldiers patrolling the area. Lightning convinces Hope he must tell his father what has happened.
After being pursued by PSICOM, Lightning's group makes their way to the Estheim residence, where they meet Bartholomew Estheim. Despite his position as a Sanctum employee, he chooses to hide his son and the fellow l'Cie from the officials. When Snow apologizes for the death of his wife, Bartholomew forgives him as he fulfilled Nora's final request to get Hope home. Bartholomew tells Hope he must choose his own path, whatever it may be.
When the Sanctum finds them, Lightning and Hope make it seem Bartholomew was an unwilling accomplice to prevent him from getting purged. Aboard the Lindblum, Hope says his father was taken to a safe location by the Cavalry before being reunited with him in the aftermath of Cocoon's fall as depicted in in Final Fantasy XIII -Episode i-.
In Final Fantasy XIII-2 Fragments Before, it is revealed Bartholomew is a secret founder of the Academy and Cocoon's new government, alongside Rygdea. In Final Fantasy XIII-2, it is revealed he died between 10 and 13 AF as Hope reveals this when explaining there was nothing left in his original time before he entered his time capsule to reach Academia 4XX AF.
Etymology
Edit
"Bartholomew" is a Hebrew name that means "son of Tolmai".
Like Rygdea, Bartholomew is a head swap; various non-player characters in Nautilus and Eden wear the same clothes as he does.
His name is never spoken in game, like Rygdea.
He shares his English voice actor with Zuke from Final Fantasy X.