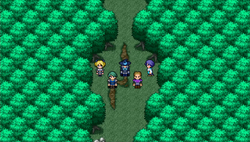 Barrier Grove (障壁の森, Shōheki no Mori?) is a location in Final Fantasy Dimensions. It's located to the north of Lufenia Ruins. Without the blessing from Oracle of Lufenia, nobody can pass the Barrier Grove as they will find themselves trapped in an infinity loop and can't go further.
Ad blocker interference detected!
Wikia is a free-to-use site that makes money from advertising. We have a modified experience for viewers using ad blockers

Wikia is not accessible if you've made further modifications. Remove the custom ad blocker rule(s) and the page will load as expected.