Baron (バロン, Baron?) is a kingdom in Final Fantasy IV, Final Fantasy IV -Interlude-, and Final Fantasy IV: The After Years. It is the homeland of Cecil Harvey, Kain Highwind, Rosa Joanna Farrell and her mother, and Cid Pollendina and his daughter. It is a powerful monarchy and one of the largest nations on the planet, ruled over from Baron Castle and the Town of Baron outside its walls. Baron is one of the only nations in the world with the technology to build airships, thanks to the research done by Cid, and has an elite squadron known as the Red Wings, initially commanded by Cecil.
History of Baron
Edit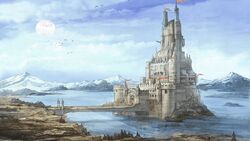 Baron is a very old nation, and was founded 800 years before the events of Final Fantasy IV. The land Baron was established on was abundant in natural resources, and it quickly developed into a blossoming city-state. A parliamentary government was established, although only the state's most influential families were permitted to vote. and industry and agriculture became the chief Baronian exports.
The rule by the people lasted for some 300 years. However, internal strife began to form within factions of Parliament. At first, matters were only political, but civil war soon broke out. A conflict known as "The Blood Stained Three Days" lasted for several days. The violence was eventually settled by the ancestors of the current King of Baron, and the family was crowned as the first royal family of Baron. Baron officially became a nation-state. Fifty years after the crowning of the King of Baron, there were talks about establishing a much needed army. The King of Baron would install his Personal Guard Corps, whose sole duty was to protect him. It can be assumed that Baigan's ancestors were at its head.
300 years before the events of Final Fantasy IV, a merchant ship from the small nation of Mysidia arrived at Baron and soon discovered its new military power. As a result, Baron soon became a very feared nation. At this point the Dragoon corps were formed by Kain's ancestors. Baron's military came to consist of the Eight Corps of Baron, consisting of the King's personal guards, the standing army, the Dragoons, the Dark Knights, the Black Mages, the White Mages, the captains and crews of their naval and airship fleets. 150 years after the two nations made contact, a security treaty between Baron and Mysidia was established, allowing for the creation of the Devil's Road.
DS Formations
Edit
Musical themes
Edit
The background music that plays inside Baron Castle is called "Kingdom Baron", while the track that plays in the town of Baron is the Final Fantasy IV "Town Theme".

Other appearances
Edit
Baron is present as a room for customized characters of the game's Multiplayer Mode Online Lobby.