Balthier
18,065 pages on
this wiki
Talk

118
Princess! No need to worry. I hope you haven't forgotten my role in this little story. I'm the leading man. You know what they say about the leading man? He never dies.
—Balthier to Ashe
Balthier, real name Ffamran mied Bunansa,[1] is a playable character in Final Fantasy XII. He is a sky pirate who globetrots Ivalice on his airship, the Strahl, with his partner Fran. During an attempt to steal from the Royal Palace of Rabanastre, Balthier encounters Vaan robbing the palace treasury. When his plan goes awry Balthier finds himself a part of a conflict between political forces that could lead to war.
Appearance
Edit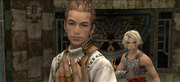 Balthier is six feet tall and has short brown hair with blond highlights, sharply styled sideburns, and green eyes. He wears an embroidered golden and olive vest over a high-collared shirt and tight black leather trousers with leather shin pads, and steel, open-backed sandals. He wears two crossed, gold-buckled belts with two pouches attached to either side and a collection of brightly colored rings and bracelets on his left hand, and has a set of earrings in both ears. In his official render for Final Fantasy XII, Balthier holds the Betelgeuse. Artwork and renders of Balthier for several spin-off appearances depict him with this gun.
Personality
Edit
Your mistakes were twofold, I'm afraid. You sprung your trap without looking to see if the game you hunted was the one you'd snare, and you sold me short. I'm no thief; I'm a sky pirate.
—Balthier to a Brigand, Final Fantasy Tactics: The War of the Lions
Balthier is charming, dashing, cunning and cynical. He comes across as cocky and self-centered but his trust in Fran is complete. While the story is told from Vaan's perspective, Balthier certainly seems to think it is his story, referring to himself as "the leading man." Despite this, he is far from selfish, proving himself in the events aboard the Sky Fortress Bahamut. After he joins Vaan and the others Balthier comes to realize he has been running away from his past, and it is implied his theatrical personality exists in part to mask his vulnerabilities and to cast aside the person he used to be.
Final Fantasy XIIEdit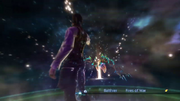 Balthier's HP growth and Strength are good though lower than Vaan's and Basch's. His Speed is the highest of the six main playable characters. His MP and Magick growth are low. Balthier is well-suited for close combat. Conversely, his low magick stats mean he is ill-suited for healing or using black magick.
Even though Balthier's default weapon is a gun and he has gun licenses already learned, Balthier has the slowest action time, together with Penelo, when using a gun—all the other characters' action time with a gun is faster.[3] Thus, it is best to equip him with other weapons that make good use of his strength and speed stat such as daggers, ninja swords, bows, greatswords, and spears.
Initial Data
Initial Equipment
Initial Licenses
Stats
Final Fantasy XII: Revenant WingsEdit
Balthier equips guns. His armor equips—sleeveless tops—all favor Defense over Magick Defense. He takes on the role of a ranged fighter. His Quickening, Element of Treachery, deals heavy damage to one foe, and is learned after defeating the Esper Shemhazai.
Abilities
Edit
| Name | Level | Description | Image |
| --- | --- | --- | --- |
| Tri-shot | — | Deal ranged damage to one foe with three successive shots. | |
| Percussive Slug | — | Deal ranged damage to one foe, knocking it back. | |
| Sniper Eye | 36 | Increase attack range. | |
| Quicksilver | 38 | Increase user's Strength. | |
| Hamstring | 41 | Inflict Immobilize on one foe. | |
| Maim | 45 | Inflict Disable on one foe. | |
| Armor-piercing Shot | 49 | Attacks deal damage to one foe in a line extending from the user. | |
| Element of Treachery | — | Deal heavy ranged damage to one foe. | |
Main article: Balthier (Boss)
Balthier is fought as a boss, alongside Fran.
Creation and Development
Edit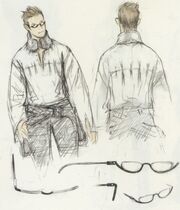 Final Fantasy XII Ultimania Omega details that a flashback scene to Balthier's younger days was planned for the game, and a character design was drawn for it. The render for young Balthier was finished, and Akihiko Yoshida especially noted that the glasses' texture was of good quality.[6] The flashback scene was cut but his unused flashback attire resembles somewhat the one he wears in Final Fantasy Tactics: The War of the Lions.
Balthier has been called a "completely original character" by creator Akihiko Yoshida, having not used any previous Final Fantasy character as a reference. Balthier has been compared to other characters in fiction. Simon Wigham of Console Obsession called Balthier his "favorite by quite a wide margin", comparing him to James Bond due to his "humorous lines". RPGFan editor Stephen Harris compared his voice to that of Ian Fleming's depiction of Bond. 1UP.com editor Andrew Pfister compared the duo of Balthier and Fran to that of Han Solo and Chewbacca, two characters from the Star Wars franchise, adding that they are far more interesting than any other character in the "modern FF era".
Balthier was originally considered to appear in Dissidia Final Fantasy, but was left out as he had recently appeared in Final Fantasy Tactics: War of the Lions. Vaan was set to appear in his place, but was ultimately replaced by Judge Gabranth.
Gideon Emery as Balthier
"Princess! No need to worry. I hope you haven't forgotten my role in this little story. I'm the leading man. You know what they say about the leading man? He never dies!"

Trouble with the audio sample?
In the English version of Final Fantasy XII and Final Fantasy Tactics: War of the Lions, Balthier is voiced by Gideon Emery. In the Japanese version of Final Fantasy XII, he is voiced by Hiroaki Hirata.
Balthier, along with Basch and Ashe, speaks in formalized English in contrast to Vaan and Penelo's more casual style. In Japanese, Balthier, Ashe and Basch use an older, more formal form of Japanese than Vaan and Penelo. Both reflect his background of being Arcadian nobility and the son of a scholar.

Other Appearances
Edit
Main article: Balthier/Tactics
Balthier is a secret playable character in Final Fantasy Tactics: The War of the Lions, the remake of Final Fantasy Tactics, and can be recruited by Ramza Beoulve. He can join the party during Chapter 4, after checking the rumor "Rash of Thieves" which occurs in the Merchant City of Dorter. When the thieves spring their trap and attack Ramza's party, they realize they have the wrong man, and Balthier shows up late on scene, and later is willing to join the party. His zodiac sign is Leo.
Balthier's job is Sky Pirate, and as such, wields several blades in battle. He can potentially do the greatest amount of damage in the game with Chaos Blade and Barrage.
Balthier appeared as a recruitable character in Final Fantasy Tactics S.

Balthier makes a cameo appearance as one of the tutors of Abilities. He appears alongside Fran and first tells the player; "to obtain more abilities, you need to level up! Also, he explains that just learning new abilities is not enough, and one needs to equip them for them to work. He commends himself as the leading man who can handle the extra abilities. Fran calls him as "Mr. Spotlight".
There is a letter sent by a moogle named Sablé regarding the previous letter he sent entitled "Watching You, Kupo". The letter is about when Vaan, Balthier, Fran and Basch went to Bhujerba's Lhusu Mines to save Penelo from Ba'Gamnan's grasp.
I'm Relieved, Kupo
New intel, kupo! The kidnappers designated a a sky pirate for the rescue, kupo. What a relief, kupo! I was able to keep my cool thanks to your responses, kupo. I hope we can have a more leisurely chat in the future, kupo!
Cloud

:

I couldn't finish 'em. Looks like this's gonna get complicated.

The following tables are incomplete and require the Stats and Abilities areas to be filled. If you wish, please examine the table and add anything missing. Remove this notice upon completion.
Making himself known as a chivalrous thief, this sky pirate travels the skies in his beloved Strahl. When he sneaks into the Royal Palace of Rabanastre in pursuit of treasure, he stumbles across both Vaan and Ashe, and the strange pair joins him and his partner Fran in their travels. Yet when he realizes the part that his brilliant father Cid has played in the Archadian Empire's expansion, he will have to take action if he is to be a true leading man.
—Online description
Balthier appears in the iOS release as a purchasable character.
Balthier returns as an unlockable character, and is unlocked by collecting Turquoise Crystal Shards.
He is a Speed and Balance oriented character.
| Level | CP | HP | Strength | Magic | Agility | Luck | Stamina | Spirit |
| --- | --- | --- | --- | --- | --- | --- | --- | --- |
| 1 | 7 | 244 | 14 | 8 | 20 | 17 | 11 | 11 |
| 50 | 37 | 4290 | 113 | 62 | 163 | 141 | 91 | 91 |
| 99 | 50 | 6475 | 168 | 92 | 242 | 208 | 134 | 134 |
Abilities
Edit
Balthier appears in Pictlogica Final Fantasy as a playable character.
Known as the "swift sky pirate," the Strahl airship captain who accompanies Vaan and friends on their voyage. Has made a name for himself as a freedom-loving Robin Hood with no ties to any nation or organization.
—Character Description
Balthier appears as an ally and a summonable Legend in Final Fantasy Airborne Brigade. He is depicted in his default Final Fantasy XII outfit. His ability is Element of Treachery. His EX ability is Tides of Fate. He was first introduced as an event ally in the event, Final Fantasy Special Event Part 2 - Showdown, in which he was unlocked automatically as a bonus character. Leveling him up to up to 99 in these events granted the player his individualized SSR weapon, Spica. In battle, Balthier is armed with his pistol and uses the ability Element of Treachery.
This fast-flying sky pirate is often seen with what appears to be a giant bunny.
—Description
Balthier is an exclusive character only available from the Premium Character Shop as a random downloadable content. He uses the Fires of War ability during battle.
Balthier appears in Final Fantasy Record Keeper. Balthier joins the party after clearing Dreadnought Leviathan during the event Break Into the Dreadnought Leviathan.
Balthier's choice of weapons include daggers, spears, and guns. He utilizes hats, light armor, robes, and armlets as his protective gear.
Stats
| Level | HP | Attack | Defense | Magic | Resistance | Mind | Accuracy | Evasion | Speed |
| --- | --- | --- | --- | --- | --- | --- | --- | --- | --- |
| 1 | 210 | 11 | 8 | 7 | 8 | 8 | 20 | 25 | 111 |
| 20 | 817 | 27 | 19 | 17 | 20 | 20 | 20 | 25 | 119 |
| 20 | 1,492 | 46 | 32 | 29 | 33 | 35 | 21 | 26 | 127 |
| 30 | 2,167 | 64 | 45 | 41 | 47 | 49 | 21 | 27 | 134 |
| 40 | 2,842 | 83 | 58 | 53 | 61 | 64 | 22 | 28 | 141 |
| 50 | 3,517 | 102 | 71 | 65 | 75 | 78 | 22 | 28 | 148 |
Gallery
Balthier has multiple Wind cards in Final Fantasy Trading Card Game. The wind element may derive from his career as a sky pirate.
Balthier appears on a Triple Triad card.

Non-Final Fantasy AppearancesEdit
Balthier appears along with the other five main characters of Final Fantasy XII in Dragon Quest & Final Fantasy in Itadaki Street Portable. The game was released prior to Final Fantasy XII.


Virtual World
Edit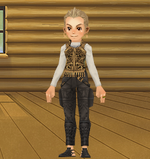 Users in Square Enix Members Virtual World community can make their character appear as Balthier. Balthier's hair costs 100 crystals and his clothes cost 480 crystals.

Gunslinger Stratos 2Edit
Balthier's costume was released on November 6, 2014.

Merchandise
Edit
Balthier has a Play Arts action figure released as part of the Final Fantasy XII set and a miniature figure in the Final Fantasy Trading Arts Mini Vol. 3. Balthier in his Final Fantasy Tactics appearance is part of the Final Fantasy Tactics Trading Arts set. He appears alongside Fran and their hoverbike in a polystone Sculpture Arts statue.
Attacking 300 times adds Balthier's sprite to Sky Pirate's Den of Final Fantasy XII and grants the player the title of Assault Striker.
Balthier shares his last name, Bunansa, with Mustadio and Besrudio Bunansa from Final Fantasy Tactics. It is unknown if there is any relation between the characters.
Only Balthier and Vaan retain their original Quickenings from Final Fantasy XII in Final Fantasy XII: Revenant Wings: Element of Treachery for Balthier and Pyroclasm for Vaan.
Coincidentally, given Balthier's status as a sky pirate, his Japanese voice actor Hiroaki Hirata also provides the voice of the pirate Jack Sparrow in Kingdom Hearts II, and has also done Japanese dubbing of various other Johnny Depp roles. He is also the Japanese voice actor for Sanji, pirate chef of the Straw Hat crew in One Piece.
References
Edit