Bagrisk
Talk

0
16,128 pages on
this wiki
Final Fantasy VII Enemy
Bagrisk
バジリスク (Bajirisuku)

?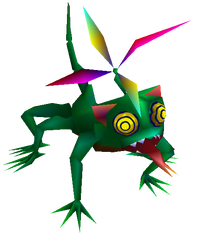 Statistics
Level
HP
MP
19
400
50
Attack
Magic
Defense
50
39
44
M. Defense
Dexterity
Evade
100
45
1
EXP
AP
Gil
240
30
275
See also: Basilisk (Creature)
The Bagrisk is an enemy from Final Fantasy VII fought on the world map on a small dirt patch together beaches far northwest of Cosmo Canyon, and in the fourth round of the Battle Square during the time Tiny Bronco is available. When fought in the Battle Square its stats are enhanced with double the regular HP and its Attack and Magic Attack are increased by 25%.
Bagrisk is not a particularly difficult enemy to defeat, but it does have access to his Tail attack which will use it twice in one turn, also have the powerful Quake2 spell, and his other attack always inflict Petrify on one character with its Stone Strike, this last attack only it use normally once per battle. It is therefore recommended to bring along a Jem Ring to prevent Petrify, or bring plenty of Soft items.
Bagrisks are the only source of infinite Vagyrisk Claw items in the game; due to the way steal mechanics work in Final Fantasy VII the higher the level the player is before they attempt to steal them, the harder they become to steal, and after a certain level Vagyrisk Claws become impossible to steal due to the mechanics of the action. At level 11, the chances for stealing are best, with a 54.86% chance of stealing a Soft, a 4.23% chance of stealing a Vagyrisk Claw, and a 40.91% chance of stealing Nothing. It is impossible to steal while wearing the Sneak Glove (definitely not recommended) or levels greater than 77 because one of the two Softs the Bagrisks carry will be stolen first.
Manipulating them into using Stone Strike against their allies can defeat them in a group.
AI Script
Edit
AI: Setup {
1/3 Chance: Count = 1
2/3 Chance: Count = 0
SpclChance = 16
TempVar:StoneStrike = 1
} AI: Main {
If (Count == 0) Then
{

If (At Least One Opponent doesn't have Petrify) Then
{

Choose Random Opponent without Petrify
Use <Tail> on Target

}
If (Rnd(1..SpclChance) == 1) Then
{

Choose Random Opponent without Petrify
Use <Tail> on Target

}
Count = 1

} Else If (Count == 1) Then {

If (At Least One Opponent doesn't have Petrify) Then
{

If ((Bagrisk's MP >= 28) AND (Rnd(1..SpclChance) == 1)) Then
{

Choose Random Opponent without Petrify
Use Quake2 on Target

} Else {

Choose Random Opponent without Petrify
Use <Tail> on Target

}

}
Count = 2

} Else {

If (At Least One Opponent doesn't have Petrify Status) Then
{

If ((Rnd(1..SpclChance) == 1) AND (TempVar:StoneStrike == 1)) Then
{

Choose Random Opponent without Petrify Status
Use Stone Strike on Target
TempVar:StoneStrike = 0

} Else {

Choose Random Opponent without Petrify Status
Use <Tail> on Target

}

}
Count = 0

}
} AI: Counter - General {
If (Bagrisk's HP <= 25% of Bagrisk's Max HP) Then
{

SpclChance = 3

} Else If (Bagrisk's HP <= 50% of Bagrisk's Max HP) Then {

SpclChance = 6

} Else If (Bagrisk's HP <= 75% of Bagrisk's Max HP) Then {

SpclChance = 9

} Else {

SpclChance = 16

}
}